Surgical Complication

Claims Solicitors

When you are left with injuries following a surgeon's mistake, we can help you make surgical compensation claims to cover the physical and emotional damage sustained.
Undergoing minor or major surgery can be a nerve-wracking experience. When avoidable injury results from the treatment you receive, our medical negligence solicitors can help you make surgical complication claims to get the compensation you deserve.
For your safety and convenience
video meetings are now available with all our specialist solicitors.
Call us on 01245 494929 or request a callback
Call me back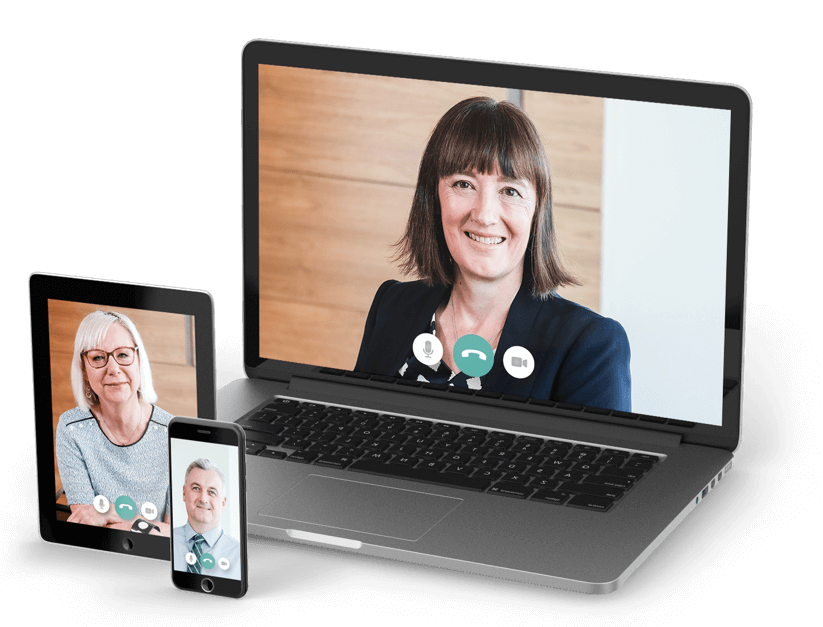 If you or a family member has suffered as a result of surgical complications, you may be entitled to claim compensation.
What is a surgical complication?
All surgeries carry risk. However, there are occasions when a patient suffers an injury that could have been avoided if the procedure had been performed to the required standard.
The injury may be due to the actions or inaction of a surgeon, anaesthetist, or another healthcare professional involved in a surgical procedure. If a surgeon's technique is substandard, or they make a mistake that causes an injury, the patient suffers as a result.
A patient may require further surgery to repair the damage caused by surgery complications, or be left to manage ongoing health problems or disabilities. In extreme cases, surgery errors can be fatal.
What are the main causes of surgical errors?
There are numerous instances that can lead to a surgeon or another healthcare professional making an error during a procedure.

A loss of concentration at a crucial moment could result in a surgeon mistakenly cutting a nerve or blood vessel

The surgeon might mistake landmarks and structures, resulting in them performing surgery on the wrong part of the body

The surgeon may fail to double-check that they have performed an action correctly, or assume that it has been performed correctly

There may be a failure to monitor a patient's heart rate and breathing

The anaesthetist may use too much anaesthetic, putting the patient's health at risk, or too little, which could result in anaesthesia awareness
If these mistakes result in the pain and suffering of the affected patient, they may be entitled to compensation.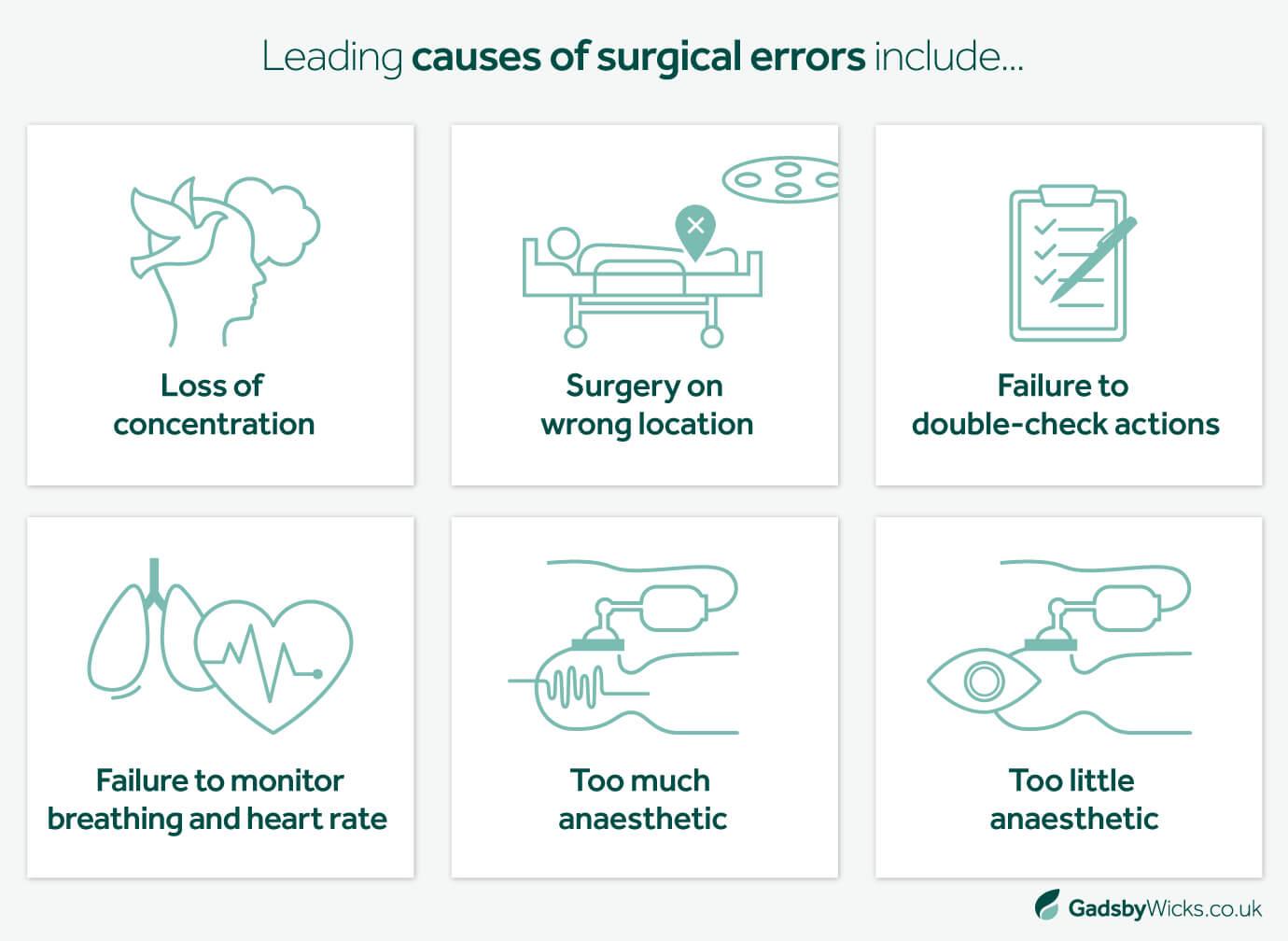 When is medical negligence to blame for surgical complications?
A negligent surgery is when the error(s) made by a surgeon during a procedure is something that no reasonable surgeon in the same position would have made. This must be determined on a case-by-case basis, as several factors may influence whether a mistake made during surgery is reasonable or not.
For instance, in several types of abdominal procedures or weight loss (bariatric) surgeries, a surgeon will need to perform actions 'blind', through touch alone. In these circumstances, it may be considered reasonable if they mistakenly damage a nerve, blood vessel or organ.
However, if the surgeon responsible does not recognise this risk, and the affected area is not monitored post-surgery to check if anything did go wrong, this could lead to a negligence claim should the patient become unwell or suffer further injury as a result.
In another example, if a patient is overweight and undergoing their fourth abdominal surgery, it may be more justifiable if damage is caused to surrounding structures compared to someone undergoing their first abdominal surgery.
As medical negligence solicitors, we engage with impartial surgeons, working in the same field as the surgeon accused of negligence, to determine whether they failed to exercise an appropriate standard of care towards their patient.
What are 'never events'?
'Never events' are incidents that are entirely preventable, such as swabs or instruments being left inside the body, surgery being performed on the wrong part of the body or on the wrong person, or the wrong type of blood given during a blood transfusion.
We have helped many people who have suffered an injury in surgery, or experienced surgical complications, to make a successful claim for compensation.
Types of surgical complications
Surgical complications can occur during any procedure. A surgeon may:

Mistakenly damage a nerve cut or blood vessel, which gradually restricts blood flow to particular nerves

A patient might develop a DVT from lying still during long operations if they are not regularly moved or provided with DVT prophylaxis

They leave instruments or other objects inside a patient's body
Below, we discuss some errors that could happen during specific surgical procedures:
Many orthopaedic procedures involve joint replacements, commonly for hips or knees. In these situations, it is possible that the wrong size replacement is chosen, which can cause severe pain and loss of range of movement. It is also possible for a defect to be overcorrected or undercorrected.
During gynaecological surgery there is a risk that a surgeon mistakenly damages a patient's bowel or bladder, particularly during laparoscopic procedures, which cause the patient harm post-surgery.
Another possible error could be a poor consenting process that results in a patient undergoing an unnecessary hysterectomy, when their condition could have been resolved with medication, leading to less permanent consequences.
It is possible that the wrong type of bariatric procedure – be it a gastric band, gastric sleeve or gastric bypass – is conducted, leading to unintended results for the patient.
In other circumstances, a surgeon or other healthcare professionals may fail to competently monitor a patient's condition post-surgery, to assess whether any unintended damage was done to a structure during a 'blind' procedure.
There are several mistakes that can occur during spinal surgery, ranging from surgery being performed at the wrong position on the patient's spine, to the risk of overstretching or cutting a nerve in the spinal cord.
During a cholecystectomy (removal of the gallbladder), it is possible that a surgical error might cause bile or gall stones to escape and cause damage to the abdomen if not washed out.
It is also possible to injure the common bile duct, responsible for carrying bile from the liver to the bowel. This will allow bile to leak out and can lead to infections, blockages and ongoing digestive issues, as well as necessitate future surgeries.
A mistake during cosmetic surgery can result in a patient not receiving the outcome they agreed with their surgeon, such as nipples being incorrectly positioned following breast surgery, which necessitates further corrective procedures. View more information about breast surgery negligence claims.
It is also possible for a patient's features to be asymmetrical following surgery, or that areas are made larger or smaller than intended.
Failure to diagnose an aortic aneurysm, not taking appropriate action when monitoring an aneurysm, delayed treatment and surgical complications can lead to unwanted consequences for a patient and their loved ones, including risk of death.
In a hospital or healthcare setting, open surgical wounds and cuts can provide entry points for bacteria and viruses to enter the body. As a result, infection is a notable potential complication following surgery.

How do I make a surgical complication claim and what should I expect?
We understand that the claims process can be difficult to navigate, which is why we are always transparent about what you can expect.
Our expert solicitors are with you every step of the way, and we commit the time and resources necessary to comprehensively investigate your negligent surgery claim. We will examine all available evidence to determine if your medical care was substandard, including:

Medical records

Claimant statements

Witness statements

Complaint correspondence

Independent medical opinion
We have a database of independent surgeons with relevant medical and legal knowledge to help us determine whether the surgeon's actions during a procedure were unreasonable and directly responsible for a poor result, leading to pain and suffering.
We will also speak to relevant medical experts to establish how much your situation has changed in comparison to if your surgery had been performed correctly. This will play a key role in quantifying the amount of compensation you deserve.
We can provide this help under a 'No Win No Fee' agreement – this means that you only have pay if we win your case. Our payment is recovered from the compensation you receive, which means you never pay anything unless you succeed in your claim.
What can a compensation claim help with?
The scope of potential outcomes following a surgical complication is vast. At its most minor, a mistake could result in a longer stay in hospital, a need for stronger painkillers, more prominent scarring or the need for additional procedures.
However, the consequences of a surgical error can be significant or permanent and life-altering. A patient may be left paralysed as a result of nerve damage inflicted during surgery, or becoming very unwell due to ongoing internal bleeding that is not addressed post-surgery. They may need to make dramatic changes to their lifestyle, home, work and social life, or require frequent therapies or treatments to support their quality of life.
An example of the ongoing repercussions of surgical complications is the case of Mr F. Following a knee arthroscopy to investigate his knee pain, Mr F felt tightness and pain, and blood ran down his leg when he stood up.
He was discharged after a tighter bandage was applied, but several days later his leg had become increasingly painful, hot and swollen. On examination at A&E, the leg was found to be purple and investigations revealed an arterio-venous fistula with a large pseudoaneurysm at the back of the knee and a DVT in the posterior tibial and peroneal veins.
Following treatment, Mr F now has to take Warfarin for life and he is left with restricted movement in the knee. He cannot kneel or put pressure on the knee as it is too painful. His leg is numb from the bottom of the kneecap to his foot. Moreover, as a self-employed builder and kitchen fitter, he has suffered substantial financial loss.
Mr F's claim was settled prior to trial for a total of £130,000. The compensation awarded following a successful surgical complication claim can cover a wide variety of costs, including (but not limited to):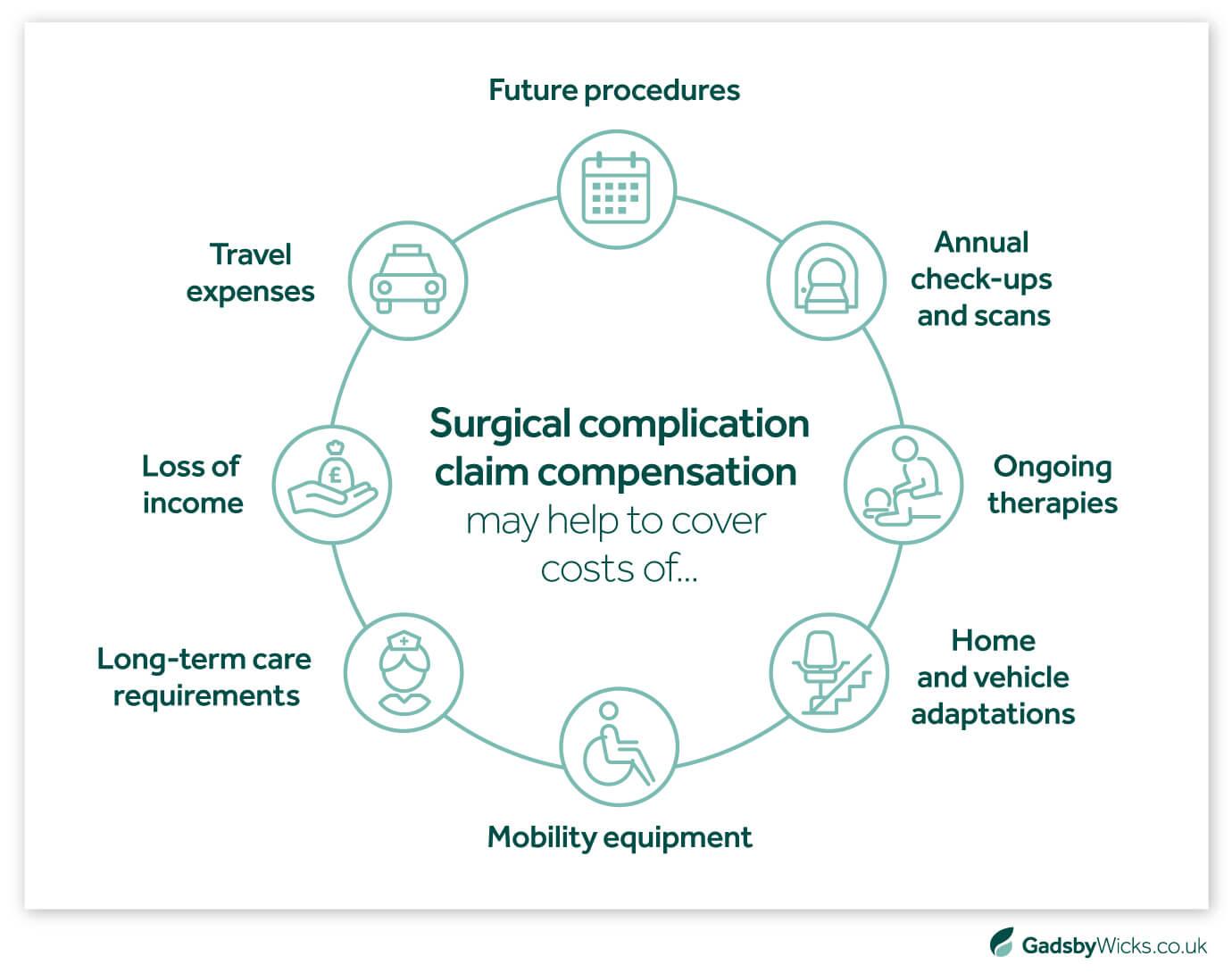 In the unfortunate event that a patient dies as a result of negligence during surgery, those who depended on the deceased financially, or benefited from services they provided for free, may be entitled to claim for compensation.
How long do surgical complication claims take to settle?
In most cases we would expect a surgical error claim to take between 2 and 5 years to reach final settlement. This is dependent on the stance taken by the defendants, and how long it takes for medical experts to establish an accurate prognosis.
During the wait to reach final settlement, if the defendants have admitted liability or there is a high likelihood that the defendants will be found liable, it is possible for a claimant to apply for interim payments.
Can I claim for damages if my injury happened over 3 years ago?
Like other medical negligence claims, a surgical complication claim must be made within three years of the injury being realised. There are exceptions to this – children have until their 21st birthday, and there is no time limit for anyone who is mentally incapacitated.
However, this does not necessarily mean three years after the injury occurred. For example, it may take several months or even years for certain outcomes of a surgical error to become apparent, such as a nerve gradually dying due to ongoing blood loss, or for a retained object to start causing a person pain or discomfort.
In these instances, date of knowledge ensures that the three-year time limit only begins at the point at which the claimant could reasonably be expected to know there was something wrong based on their circumstances.
Even if your injury occurred longer than three years ago, we would still urge you to get in touch. Every claim is at the discretion of the Court, and we have the experience and expertise to advise you on whether your claim is viable.

Why choose a Gadsby Wicks medical negligence solicitor?
One specialist
solicitor throughout
your whole case
The only medical
negligence specialists
throughout Essex &
East Anglia
96% of cases are
successfully resolved
without the need
to go to court