Surgical Complication Claims
Cosmetic Surgery Claims Solicitors
Cosmetic surgery is designed to change someone's physical appearance, often to make them feel more confident and increase their self-esteem. But, as with other forms of surgery, mistakes can happen that lead to poor results, or even a risk to your health.
If you have put your trust in a cosmetic surgeon and have been let down, we can help. Our specialist solicitors will guide you through every step of your cosmetic surgery claim, so you receive the answers and compensation you deserve.
What is considered as a cosmetic surgery?
A cosmetic procedure is one that is not required for a medical or functional reason – its main goal is to improve someone's physical appearance. This could be for a variety of reasons:
To correct any blemishes or imperfections
To help improve a person's body image or self-esteem
To protect against psychological distress caused by a person's body image
To remedy physical distress (e.g. a breast reduction to prevent back pain)
Common cosmetic surgeries and procedures include:
Breast surgery (both augmentation and reduction)
Facelifts
Brow lifts
Eyelid surgery
Otoplasty (ear surgery)
Rhinoplasty (nose reshaping)
Dermal fillers (face and lip fillers)
Mentoplasty (chin surgery)
Liposuction and tummy tucks
Skin resurfacing
In 2021, over 15,000 cosmetic surgery procedures were performed across the UK. However, this does not include reconstructive procedures.
Plastic surgery aims to repair and reconstruct missing or damaged tissue and skin following an illness, accident or birth defect. This could include rebuilding a woman's breasts after a mastectomy, repairing a cleft lip and palate, or removing prominent birthmarks.
Purely, cosmetic surgeries are primarily performed by private practices rather than the NHS. However, there are exceptions if the patient requires the procedures for psychological or other health reasons, such as:
Breast implants to correct very uneven breasts that are causing significant distress
Nose reshaping to resolve breathing problems
Ear correction surgery to prevent psychological distress
Female breast reduction to eliminate back pain
Male breast (gynaecomastia) reduction to eliminate pain and distress
For your safety and convenience
video meetings are now available with all our specialist solicitors.
Call us on 01245 494929 or request a callback
Call me back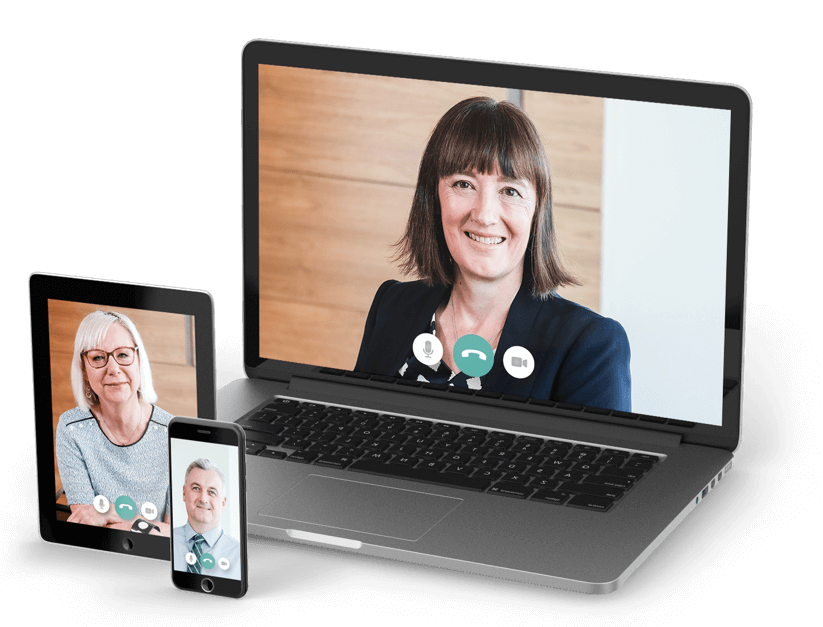 How can cosmetic surgery go wrong?
Cosmetic procedures, whether performed by cosmetic surgeons, plastic surgeons or another healthcare professional, carry risks like any other surgery. While most surgeries are performed to a good standard and leave patients happy with the results, mistakes can and do happen, affecting people both physically and emotionally.
Unsatisfactory results
Poor surgical technique could lead to a result you did not expect or want, such as asymmetrical or lopsided breasts, or a misshapen nose. This can be deeply psychologically damaging, especially when these procedures are specifically undergone in order to make you look and feel better.
Poor consenting process
Whether your surgeon failed to give a realistic view of what the procedure can and cannot achieve, or they failed to make you fully aware of the risks associated with your surgery beforehand, poor consenting can be negligent treatment.
Damaging a nerve or blood vessel
During surgery, a nerve or blood vessel may be cut or overstretched by mistake. The impact of this can vary significantly from case to case, from losing sensitivity in places, to parts of the body being left completely paralysed. In addition, a cut blood vessel may lead to abnormal bleeding leading to bruising and clots (haematomas) post-surgery.
Infection following surgery
Open surgical wounds and cuts can provide entry points for bacteria and viruses, making infection a very real risk following any form of cosmetic surgery.
Allergic reactions
If a dermal filler moves away from the intended area of the body, it may cause you to suffer rashes, swelling, itching and potentially allergic reactions, leading to anaphylaxis.
Mismanagement of anaesthetic
An anaesthetist may use too much anaesthetic during a surgery, placing your health in jeopardy, or too little, which could result in anaesthesia awareness.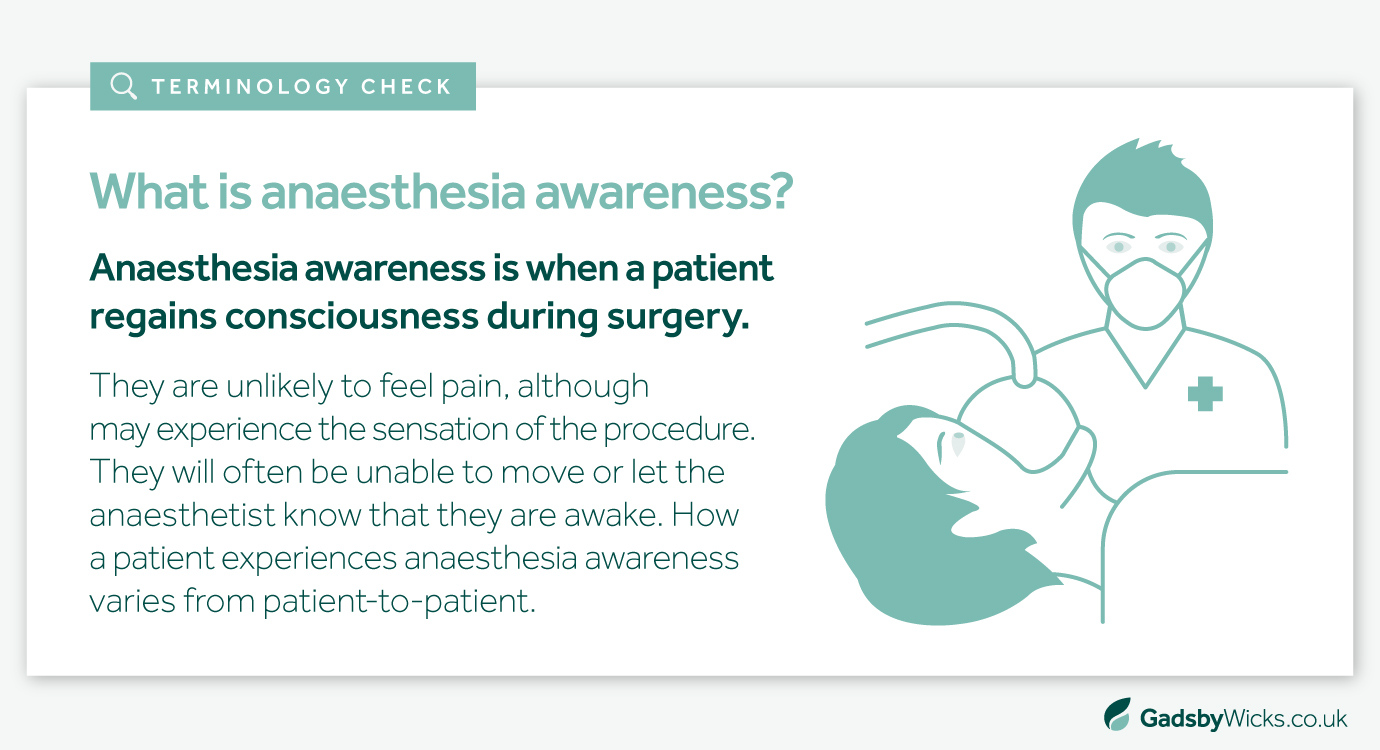 Excessive scarring
There is inevitably scarring following any procedure. However, when the aim of cosmetic surgery is to look better afterwards. Poor technique of patient selection can result in extensive or unacceptable scarring, which can be both unpleasant to look at and painful.
Unsuitable aftercare
A lack of reasonable aftercare following cosmetic surgery, whether it is the application of compression garments or massaging scar tissue, can lead to unwanted results.
Have any of the above affected you or a loved one following cosmetic surgery, either relating to your appearance or your health and wellbeing? We guide you through the claims process to help you secure compensation for corrective treatments and any further support you might need.
How can cosmetic surgery negligence impact someone's life?
The physical and psychological damage that can result from a negligent cosmetic procedure can be significant, and should never be underestimated.
It could be that your result is not what was expected, meaning you need to undergo further procedures to correct the issue and take more time off work to recover. It is important to note that it may take several months to recover from cosmetic surgery, and some problems will heal naturally over time.
Or, as is the case in other surgeries, nerve or blood vessel damage can have long-term consequences on your health. This could range from a minor loss of mobility to total paralysis, or you could become very unwell due to internal bleeding that is not addressed post-surgery.
Furthermore, if you were seeking to improve your appearance through surgery to benefit your body image and self-esteem, we recognise that an unsatisfactory result can be an even bigger blow to your emotional and psychological wellbeing.
The scope of potential outcomes is vast, and at Gadsby Wicks we never undervalue how a poorly performed cosmetic surgery can change your lifestyle, relationships and career. We take the time to understand exactly how you have been impacted by the negligent care you received to ensure your compensation reflects this.
In the unfortunate event that a patient dies as a result of negligence during surgery, those who depended on the deceased financially, or benefited from services they provided for free, may be entitled to claim for compensation.
How do I prove cosmetic surgery errors were caused by negligence?
Like other surgical complication claims, we will work with you establish the three key elements needed for any successful claim:
A healthcare professional breached their duty of care towards you
You suffered pain, injury, loss or damage during your treatment
The harm you endured was directly related to the breach of duty
To help us do this, we engage with independent, impartial cosmetic surgeons, who are both actively working in their field and understand the legal and medical tests we require of them. Their expertise helps us understand whether negligence was the most likely cause of your pain and suffering, and whether your cosmetic surgeon gave you realistic expectations.
We will also speak to relevant medical experts on how much your circumstances have changed compared to if your surgery had gone according to plan. This will be crucial in quantifying the compensation you deserve.
Furthermore, we will thoroughly investigate all available evidence to get to the bottom of your case, including:
Medical records
Claimant statements
Witness statements
Complaint correspondence
Photographs
We can provide this specialist legal advice and support on a 'No Win No Fee' basis. This means you will only pay us if we win your case, with our payment recovered from the compensation you receive.
What is the average settlement amount for cosmetic surgery claims?
Due to the breadth of outcomes that can occur following a negligent cosmetic surgery, it is impossible to suggest an 'average' settlement amount. It will depend entirely on your unique circumstances and how you have been affected in the short and long-term.
For instance, in the case of Miss H, she consulted a private plastic surgeon to undergo breast reduction surgery, as the size was causing her both embarrassment and back pain. Read more on her story below: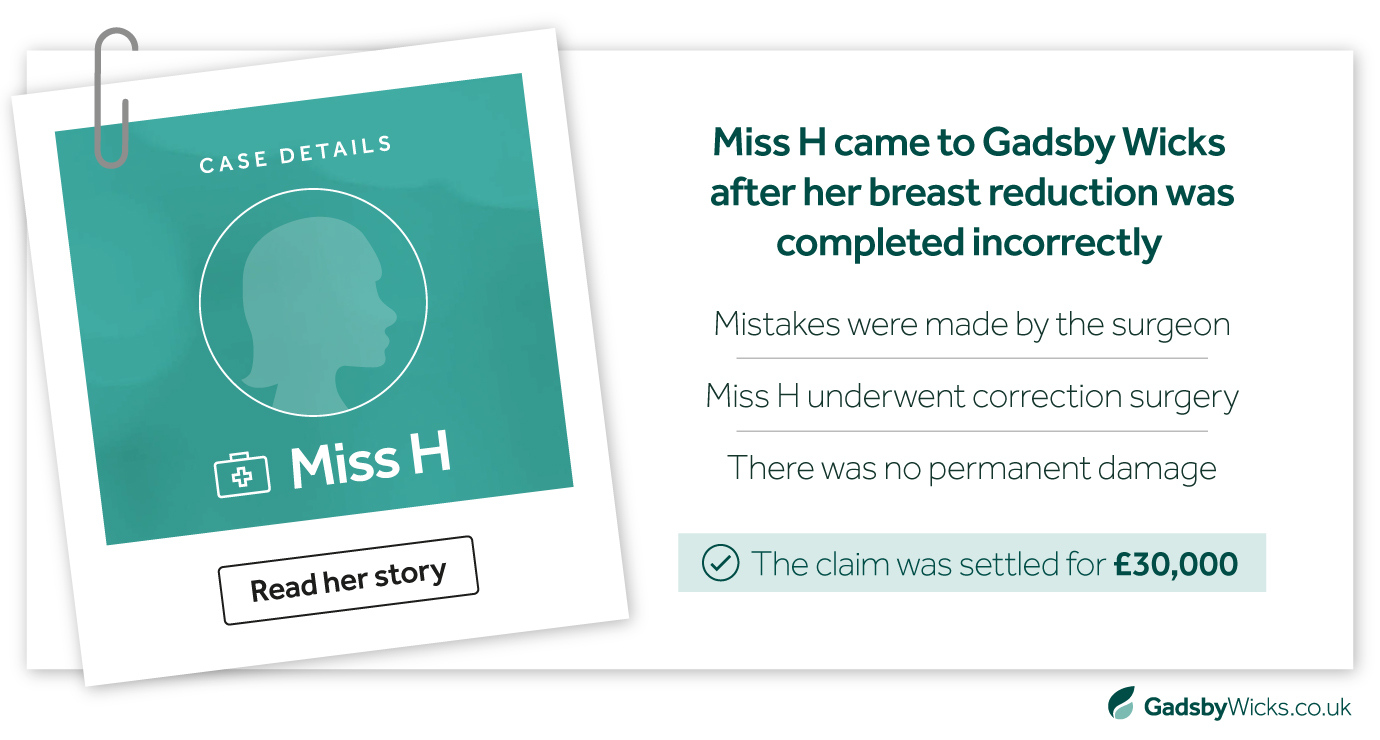 Had the outcome for Miss H presented a more permanent issue, say partial paralysis due to nerve damage, then the compensation would likely have been greater.
We always take the time necessary to understand your specific case and how you've been affected, so we pursue the right amount of compensation for your needs.
Where do I start with a cosmetic surgery claim?
At Gadsby Wicks, medical negligence is all that we specialise in, and we have the expertise and experience to support your cosmetic surgery claim from start to finish.
We have been supporting claims in Essex and East Anglia for over 25 years
We are authorised and regulated by the Solicitors Regulation Authority
We were the first law firm in England to have two or more solicitors recognised as accredited clinical negligence specialists by the Association of Personal Injury Lawyers
Four of our specialist solicitors are further accredited by The Law Society's Clinical Negligence Accreditation Scheme
96% of our cases settle without going to court
Can I make a claim if my cosmetic surgery happened abroad?
It is not uncommon for people to have cosmetic procedures performed overseas, as this can be cheaper compared than in the UK.
We deal with breaches of obligation in England and Wales. If the contract for the procedure is made in England or Wales and then performed overseas, we can support a medical negligence claim. If the contract is made outside of England and Wales, we cannot help someone make a claim.
How long does a cosmetic surgery claim take to settle?
While every case is different, we would expect a cosmetic surgery claim to take between two and five years to reach final settlement. However, this depends on the stance taken by the defendants, and how long it takes for medical experts to reach an accurate prognosis.
Is there a time limit on making a cosmetic surgery claim?
Like other medical negligence claims, most cosmetic surgery claims must be made within 3 years of the injury being realised. However, there are exceptions to this:
Children have until their 21st birthday to make a claim
There is no time limit for anyone who is mentally incapacitated
Furthermore, the date of knowledge ensures that the three-year time limit only begins at the point a claimant could reasonably realise that something was wrong with them. This is useful if it takes several months for a surgical error to become apparent, such as a nerve gradually dying due to ongoing blood loss.
If your injury did occur over three years ago, we would still urge you to contact us. Every claim is at the discretion of the Court, and we can advise on whether your claim is likely to be allowed.
Types of Cosmetic Surgery Claims
Our expert team has years of experience in pursuing cosmetic surgery compensation. We are here when you're ready.
Why choose a Gadsby Wicks medical negligence solicitor?
One specialist
solicitor throughout
your whole case
The only medical
negligence specialists
throughout Essex &
East Anglia
96% of cases are
successfully resolved
without the need
to go to court