Misdiagnosis Claims
Cancer Misdiagnosis Solicitors
Hearing that you or a family member has cancer can be devastating, but the sooner there is a diagnosis, the better. Cancer misdiagnosis can delay treatment, affect your prognosis, your treatment options and your chances of recovery.

We have over 25 years' experience and expertise in handling complex cancer misdiagnosis claims. If delays in a cancer diagnosis were due to negligent treatment by a healthcare professional, you may be entitled to compensation.
What is a cancer misdiagnosis?
A cancer misdiagnosis generally occurs on one of three ways:
A healthcare professional mistakes the cancer for a different condition, which leads to a delay in diagnosis
A healthcare professional overlooks the possibility of signs and symptoms being cancer, which leads to a delay in diagnosis
A healthcare professional wrongly diagnoses a patient with cancer, when their symptoms are caused by a different condition altogether
In the first two, we have to consider how a patient's cancer has progressed as a result of the delayed diagnosis. Our experts will establish:
Was any further pain, suffering, loss or damage experienced by the patient?
Have the treatment options available to the patient changed due to the delay?
Has the patient's prognosis worsened because of the delayed diagnosis?
How do I know if my cancer misdiagnosis was due to medical negligence?
Whether a misdiagnosis is negligent will depend on the circumstances surrounding what happened. It could be that you experienced a breach of duty by your GP or your medical specialist. Perhaps signs and symptoms were dismissed and there was a failure to take further action, or a radiologist misinterpreted a scan and wrongly reported information back to a healthcare professional.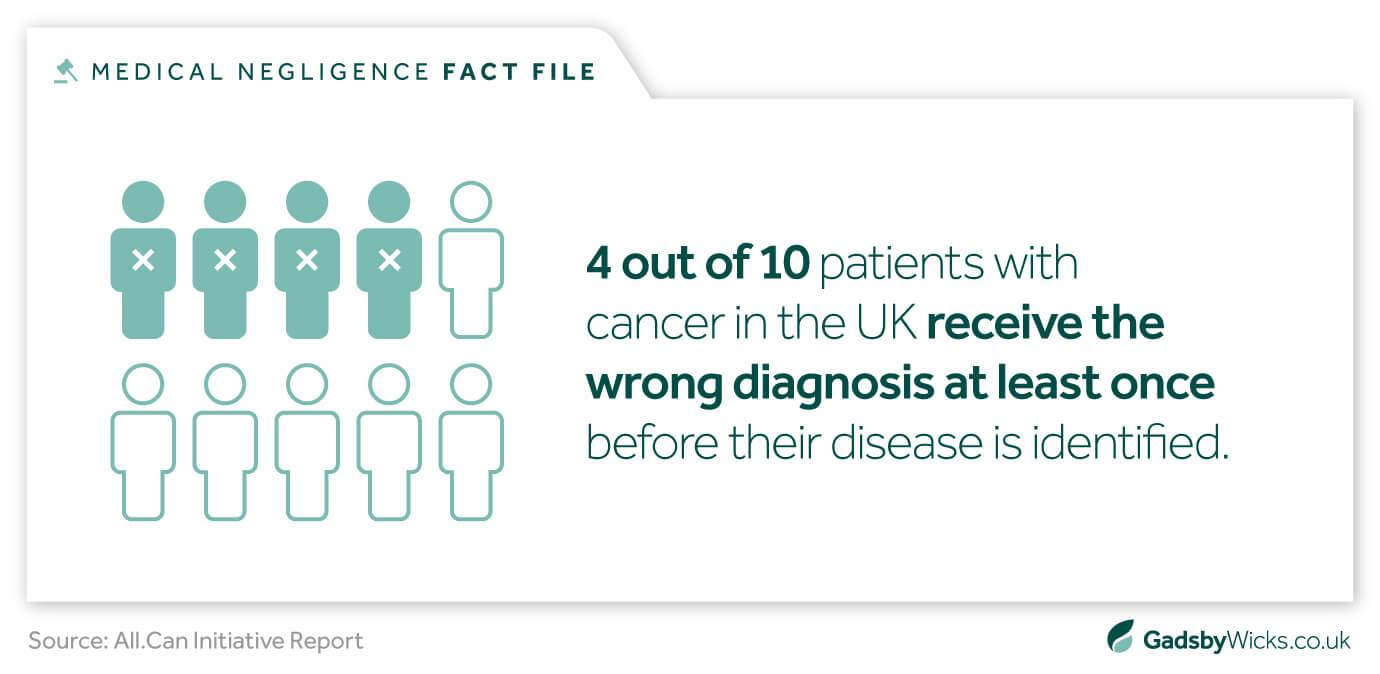 A misdiagnosis or delay in diagnosis may not be grounds for a cancer negligence claim if there was reasonable cause to pursue other diagnoses prior to this. This could be due to the symptoms being more indicative of another condition, or there being a need to rule out conditions that presented a more urgent concern to a patient's health.
Situations that can lead to a successful misdiagnosis claim:
A healthcare professional could order the wrong test, such as an X-ray instead of a CT scan, where the cancer wouldn't be visible
A biopsy was taken from the wrong section, or not enough of a sample was taken
A test or scan was misinterpreted
Not taking all signs or symptoms into account, such as a patient saying that a mole that looks benign is itchy, which should prompt further investigation
A GP or healthcare professional diagnosing that ongoing pain is due to muscle strain or over-exercising
What are the main causes of cancer misdiagnosis?
The GP or hospital fails to acknowledge potential signs of cancer
There was a failure to order the appropriate diagnostic tests or refer to a specialist
Mistakes were made when interpreting test results
Test results were delayed and a lack of follow-up in a timely manner
The stage or type of cancer was misdiagnosed and the cancer treatment received was ineffective
A mistake was made during the administration of treatment
There may also be delays to diagnosis due to a lack of funding available for procedures related to an alternative condition. Mrs M's story explains this situation in more detail.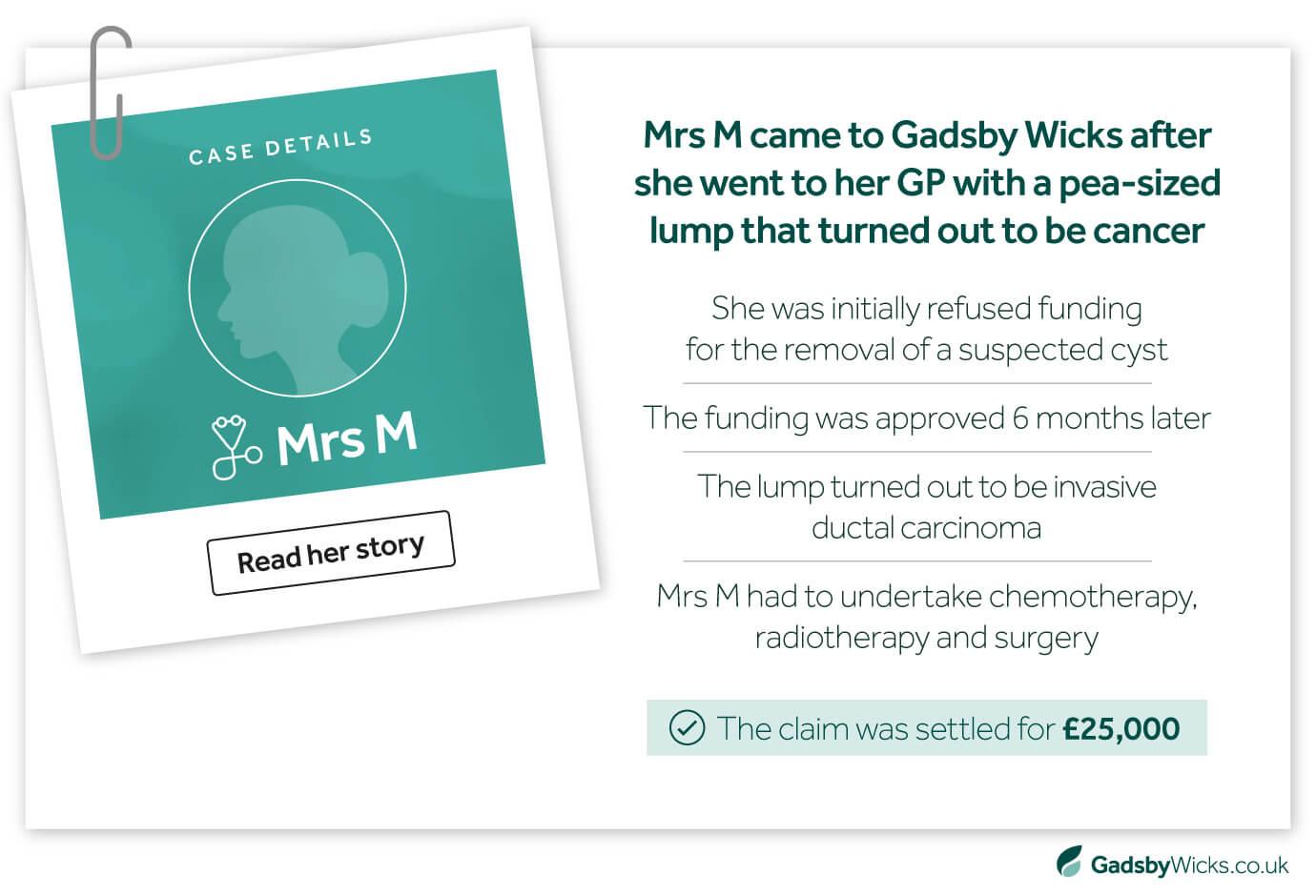 How will cancer misdiagnosis claim compensation help me?
If a person's quality or length of life is impacted by a cancer misdiagnosis, compensation can help support them and their family through the difficult times ahead.
Compensation for cancer misdiagnosis claims can be used towards:
Private medical treatments for cancer (such as chemotherapy, radiotherapy, surgery, etc.)
Loss of earnings incurred while undergoing and recovering from treatment
Any necessary equipment or aids
Therapies or support for any psychological harm caused by the experience
If the misdiagnosis ends in a fatal result, compensation can help support dependents when a loved one passes away
How long do cancer misdiagnosis claims take to settle?
While we are unable to provide a definitive timeline on a case, as each one is individual, we would typically expect a misdiagnosis claim to take between two and five years to reach final settlement. This depends on the defendants' stance and the length of time it takes to receive an accurate prognosis from medical professionals.
To ensure your medical negligence claim is valid and that you receive the best outcome possible, your solicitors must take the appropriate time to complete investigations. Any promise of a quick result is usually unfounded and quite likely to be untrue.
How long do I have to claim?
As is the case for all medical negligence claims, there is a general time limit of three years from when the injury is realised for someone to make a misdiagnosis claim. However, there are exceptions to this rule which include:
Claimants under the age of 18 who have until their 21st birthday to make a claim
If the claimant is mentally incapacitated at the time of the negligence occurring or as a result of the negligence, there is no limit on when they can make a claim
If the claimant passes away within the three-year time period for the claim to be brought, the three-year limit begins anew at the date of their death
Where a person dies as a result of their treatment, dependents who are under 18 at the time of that death have until 3 years after their 18th birthday to bring a claim
For your safety and convenience
video meetings are now available with all our specialist solicitors.
Call us on 01245 494929 or request a callback
Call me back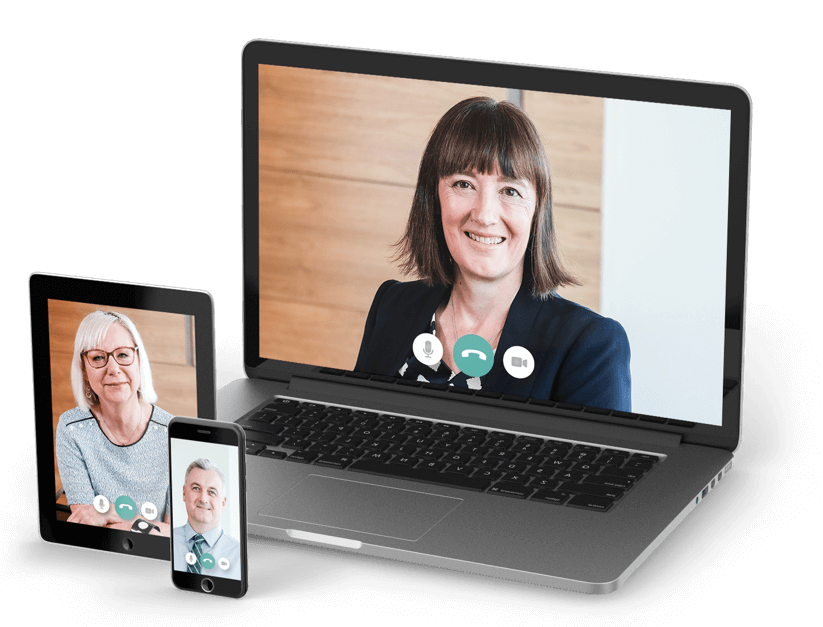 Have you suffered because of a cancer misdiagnosis or delayed cancer diagnosis?
If you experience a delay due to the misdiagnosis of cancer, this can mean that the treatment you require is different or more severe, and that your long-term prognosis is worse.
For instance, you may now need chemotherapy in addition to surgery compared to six months earlier when surgery alone would have been enough. Or you may need a mastectomy for breast cancer when earlier diagnosis might have led to you just requiring a lumpectomy and not losing your breast. Your chances of five-year survival may also have been reduced.
If you believe you have suffered due to possible misdiagnosis or delayed diagnosis then you could be entitled to make a medical negligence compensation claim.
Where do I start with a cancer misdiagnosis claim?
If you would like to know whether you have a cancer compensation claim due to delayed diagnosis or misdiagnosis, the first step is to get in touch with our specialist medical negligence solicitors. We have a range of ways for you to get in touch:
The first conversation we have will be exploratory. One of our clinical negligence team will take as many details as they can, ready to discuss with a solicitor. We will then inform you whether we think you have a case. We will never accept a case if we do not believe we will be able to make a successful claim.
Why use Gadsby Wicks for your cancer misdiagnosis claim?
You pay nothing up-front during your case – we operate a no win, no fee basis
Our medical negligence team has been serving clients in Essex and East Anglia since 1993
We were the first firm in England to have more than two lawyers accredited as clinical negligence specialists by the Association of Personal Injury Lawyers
Three of our solicitors are also accredited by the Law Society's Clinical Negligence Accreditation Scheme
We have in-house medical professionals to assist with your case
Managing Partner Gillian Gadsby is on the Clinical Negligence Specialist Panel for the Action Against Medical Accidents (AvMA) charity
If you would like to know more about Gadsby Wicks, the legal advice we offer and how we can help pursue a cancer misdiagnosis claim, please do not hesitate to get in touch.
Types of Cancer Misdiagnosis Claims
If you believe one or more of these errors has happened to you, we can put together a compelling case for your cancer misdiagnosis claim.
Why choose a Gadsby Wicks medical negligence solicitor?
One specialist
solicitor throughout
your whole case
The only medical
negligence specialists
throughout Essex &
East Anglia
96% of cases are
successfully resolved
without the need
to go to court