Delayed Treatment

Claims

If you haven't received the right treatment at the right time, then you may have received negligent or substandard care from a medical professional.
Delayed treatment can have serious consequences for a patient, causing additional pain and suffering and, in some cases, irreversible complications and a change in prognosis. Our specialists help you seek justice should this happen to you.
For your safety and convenience
video meetings are now available with all our specialist solicitors.
Call us on 01245 494929 or request a callback
Call me back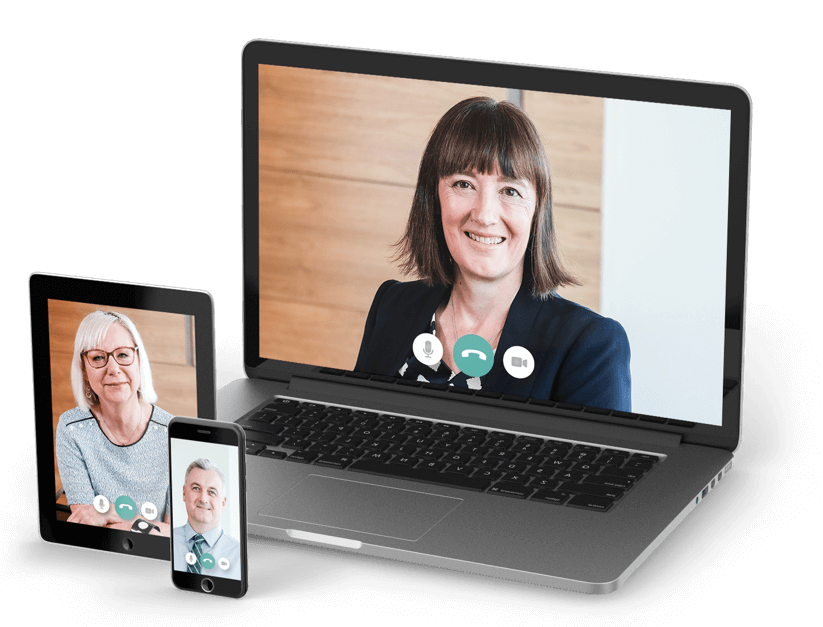 Delayed treatment can have life-changing implications. If you would like to speak to us about making a delayed diagnosis claim, our team are here to help.
What is the definition of delayed treatment?
There are many circumstances that can result in someone waiting longer for medical treatment, from hospital waiting times to healthcare professionals failing to identify a patient's symptoms.
However, in order to be considered a negligent delay:

The delay must be due to a healthcare professional breaching their duty of care.

The delay must be significant.

The injuries the claimant endured must be directly caused by the delay.
If a delay of treatment is due to mistakes by a healthcare professional – mistakes that no reasonable professional in their position would have made – then this would be considered a breach of their duty of care.
A significant delay is one that leads to a change in a patient's condition, prognosis or treatment options. If no harm comes to the patient in the time between when their treatment should have started and when it actually started, then the delay is not considered significant.
For example, if a doctor fails to diagnose a patient's breast cancer, but the patient then has this identified by another doctor two weeks later, it is unlikely that the patient's disease would have progressed enough to alter their prognosis or treatment. This means a delayed diagnosis claim would be unsuccessful.
Conversely, if the patient did not have their condition diagnosed until a year later, this may have significantly changed what treatment was available to them, and their long-term prognosis. This would make the delay significant, and the patient may be entitled to compensation.

Why does delayed diagnosis happen?
One of the common reasons why someone would experience a delay in diagnosis or treatment is because their medical condition has been misdiagnosed. This then leads to a delay in referral to specialists, which then impacts subsequent treatment options.
Sometimes, this will mean a patient has to undergo prolonged or more invasive treatment than they would have if their diagnosis was made earlier. They may become disabled or disfigured as a result of this treatment, which could have also been avoided.
In the worst cases, patients may succumb to a disease that could have been cured if it had been diagnosed earlier. In the case of Mr T, he was prescribed a five-day course of amoxicillin by his GP after complaining of breathlessness and a cough.
When his condition did not improve, Mr T was admitted to A&E, where it was discovered he had severe coronary heart disease. Although he was listed for a coronary artery bypass graft, he became unwell a week later and passed away following a cardiac arrest.

What are the main causes of delayed treatment?
A delay in diagnosis or a misdiagnosis invariably leads to delayed treatment, whether this is due to overlooking symptoms during a physical examination, or misinterpreting scans and test results. The longer it takes to identify what is wrong with a patient, the more time that could have been used to treat the problem is lost.
Beyond this, other causes of delayed treatment may include: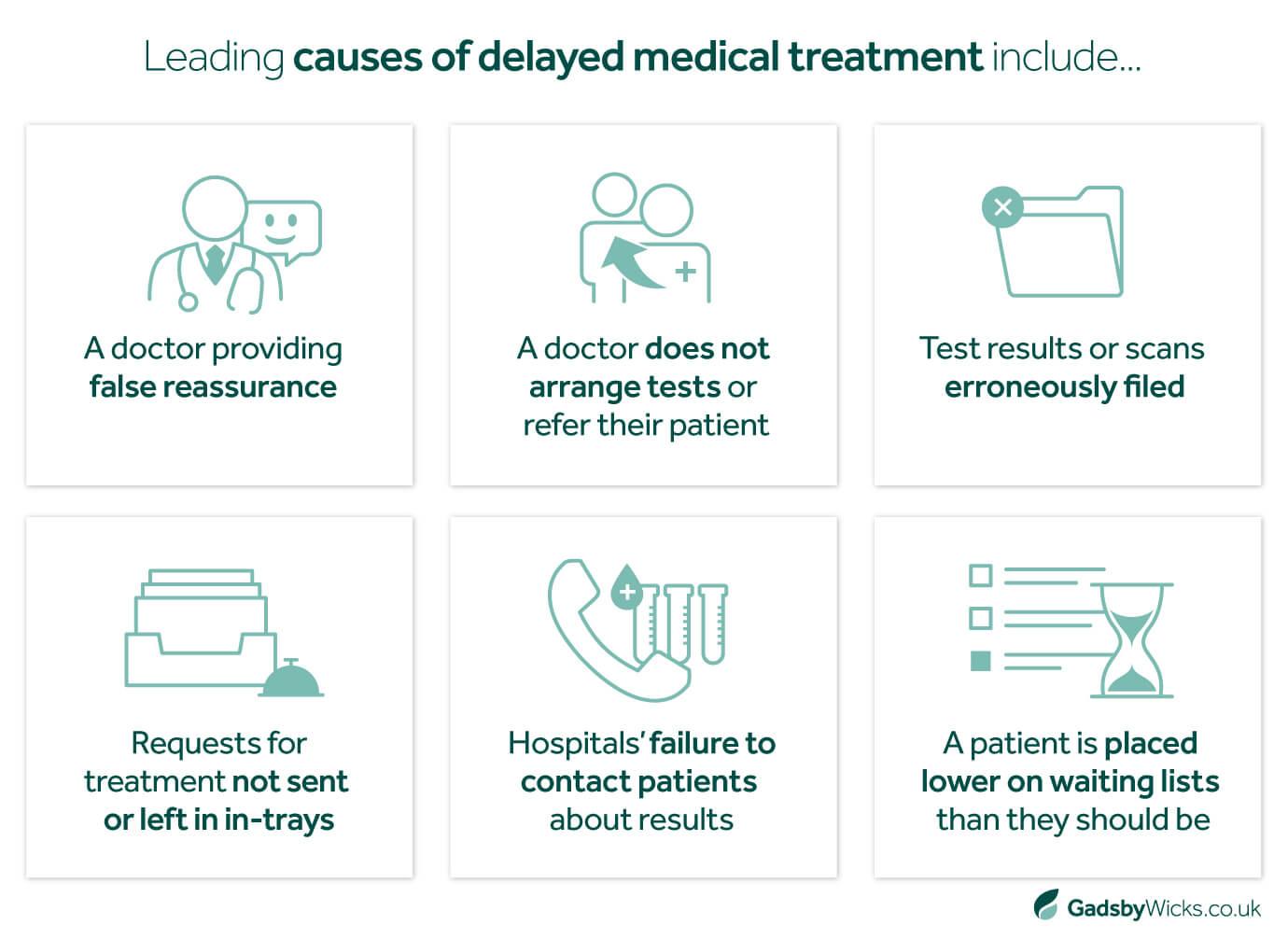 A delay in treatment may also happen in emergency situations, such as in A&E, or during surgery should the seriousness of a patient's condition go unnoticed for an unreasonable length of time.
Delays such as GP waiting times are typically not pursued for compensation claims. However if a GP wrongly gives a patient a Routine referral to see a specialist for their problem, when they require an Urgent referral, this could be considered clinical negligence if the patient's condition deteriorates due to this delay.

When is medical negligence to blame for delayed treatment?
As mentioned above, to claim for delayed treatment, a medical negligence team must be able to prove that a healthcare professional breached their duty of care towards a claimant, and that the claimant's condition, prognosis or treatment options changed as a result.

There are circumstances where a delay of treatment is justifiable, even if a patient's condition consequently worsens. One of the most notable relates to differential diagnoses, where there are multiple different causes for a patient's ill health.
Imagine that following diagnosis, a patient is deemed to have one of three conditions:

A fast-moving, potentially fatal disease

A progressive condition

A benign condition that does not require treatment
A healthcare professional will prioritise the first option, as it presents the most immediate risk. Should further tests rule this out, they would then proceed to the next possible condition.
In this scenario, if the patient did have the second condition, it may have progressed while the testing was conducted for the first condition. However, if a healthcare professional has a solid rationale for delaying this treatment, there are no grounds for a medical negligence claim.
Contrarily, if a healthcare professional started with the second condition, when in fact the patient was suffering from the first condition, this could be considered negligent as they did not prioritise their diagnoses correctly.

Where do I start with a delayed treatment claim?
If you believe you or a loved one has been affected as a result of delayed treatment, speaking to experienced medical negligence solicitors, such as our team at Gadsby Wicks, will ensure you receive the guidance you need to secure the justice and compensation you deserve.
We will always be transparent with you about the claims process, and you will be assigned one dedicated solicitor to manage your case from start to finish. They will thoroughly investigate all available evidence to support your claim, including: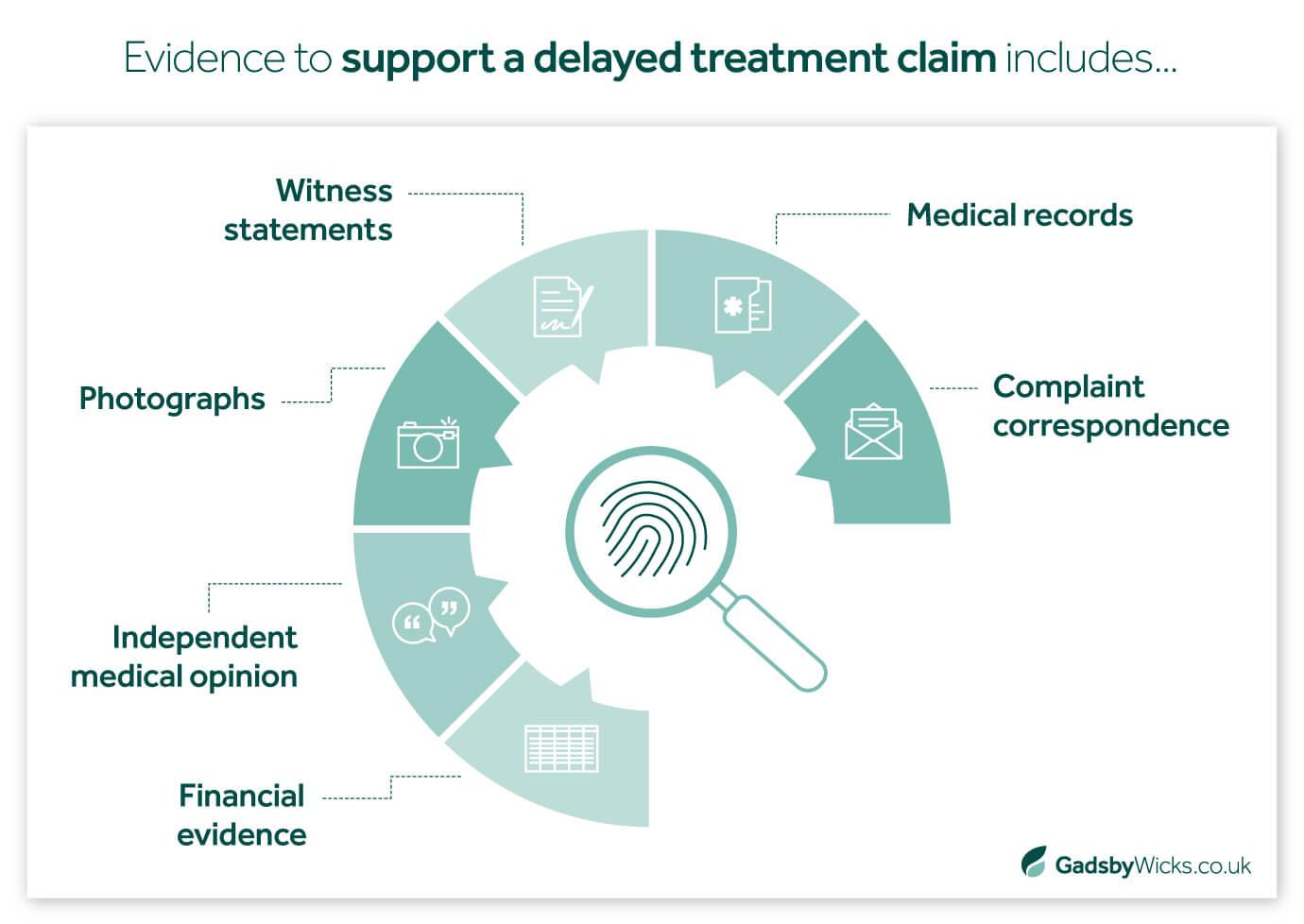 We will contact relevant, impartial medical professionals to determine whether the delay to your medical treatment was unreasonable and negligent, and what the impact this delay had on your treatment options and prognosis.
Our investigation may reach the conclusion that a delay was justifiable, or that it had no effect on the treatment you received or your long-term prognosis. We are always honest with our clients, even if that means informing them that we believe they do not have a viable claim.
However, if our experts confirm that a healthcare professional breached their duty of care to you, and that this changed your treatment options and/or prognosis, we will work hard to ensure that you are fully compensated for this.
We have multiple ways to fund your claim. Most often our clients use a 'No Win No Fee' agreement, which guarantees that you will not pay anything if your claim is unsuccessful. Our payment is recovered from the compensation you receive.

How long do delayed treatment claims take to settle?
We would advise that you should expect a delayed treatment claim to take anywhere between 2 and 5 years to reach final settlement. This will vary depending on the stance taken by the defendants, and how long it takes medical experts to determine an accurate prognosis.

How long do I have to make a claim?
Like all medical negligence claims, a claimant has a three-year time limit from when an injury is realised to make a delayed treatment claim. There are exceptions to this rule – claimants under the age of 18 have until their 21st birthday to make a claim, while there is no time limit for those who are mentally incapacitated.
However, this does not necessarily mean three years after the negligent act occurred. It may be several months or years after this before a person recognises that something is wrong with them.
In these circumstances, date of knowledge ensures that someone can still make a claim. Here, the three-year time limit begins when a claimant should have reasonably suspected that something was wrong, rather than when the act of negligence happened.
Furthermore, every medical negligence claim is at the discretion of the Court, meaning it is possible for a claim to proceed even if the time limit has expired. Get in touch with our medical negligence experts and we will advise you on whether or not you have a viable claim.
How will delayed treatment compensation help me?
The compensation a claimant receives from a successful delayed treatment claim largely depends on how the delay impacted their prognosis and treatment options, and the long-term consequences of this.
The implications of delayed treatment can be vast, from simply the loss of earnings from a few additional days in hospital, to dramatically altering someone's lifestyle, capabilities and life expectancy.
As an example, consider a doctor failing to diagnose a patient with Stage 1 breast cancer, reassuring them that nothing is wrong. Several years later the patient visits another doctor who discovers the cancer, but it has now progressed to Stage 4. This may mean:

A condition that may have been resolved through a single surgery now requires more extensive surgery, radiotherapy and chemotherapy

Their one-year survival rate may have dropped from 100% to 63%
The purpose of compensation is to help someone get back to the position they were in before the negligence or, if this is not possible, support changes to their life moving forward.
The possibilities of how compensation can help someone following delayed treatment are vast, and may include:

The cost of necessary treatments

Loss of earnings incurred while undergoing and recovering from treatment

Claims for future losses due to being unable to work, or needing to change their employment

Any necessary equipment or aids

Therapies or support for any psychological harm caused by the experience

Paying others for services that the claimant cannot perform themselves anymore (e.g. gardening, household chores, etc.)

Any adaptations required to the home or to vehicles
For examples of how we have helped our clients secure the compensation they need to move on from delayed treatment, please explore our case studies:

Why choose a Gadsby Wicks medical negligence solicitor?
One specialist
solicitor throughout
your whole case
The only medical
negligence specialists
throughout Essex &
East Anglia
96% of cases are
successfully resolved
without the need
to go to court