Surgical Complication Claims
Spinal Injury Claims
The spinal cord is a complex part of the central nervous system and helps control many functions of the body. Depending on where and how severely it gets damaged, it can have a wide scope of implications for the person injured.

Our solicitors have dealt with a vast range of spinal injury claims, securing compensation to support individuals and families in their day-to-day lives.
Find out more about Spinal Injury Claims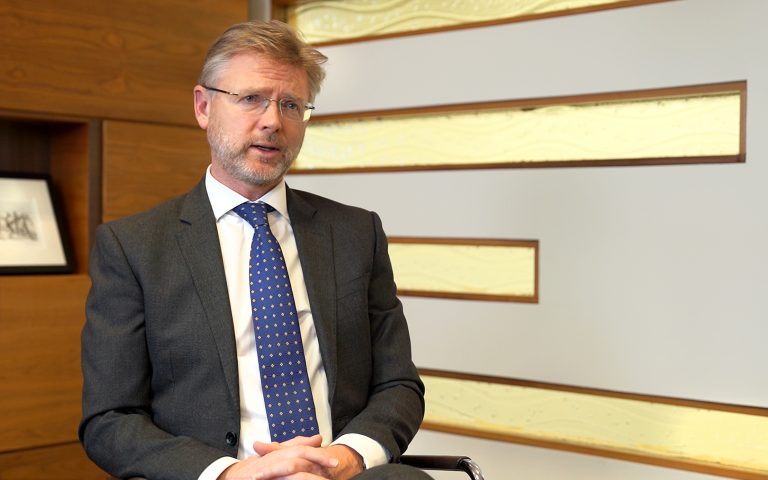 Our solicitors will support you to get the compensation you deserve. Start your medical negligence claim today at absolutely no cost to you.
No win. No fee.
No hidden costs
100% risk-free, only pay if you win
For your safety and convenience
video meetings are now available with all our specialist solicitors.
Call us on 01245 494929 or request a callback
Call me back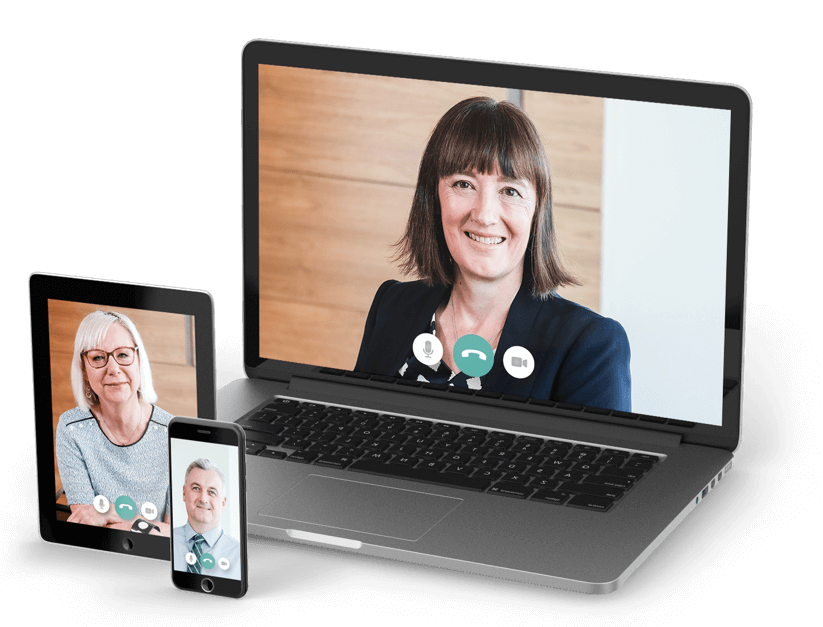 What is a spinal injury?
A spinal injury refers to any physical damage sustained by the spinal cord, or the vertebrae, ligaments or discs that surround it. This can occur in numerous ways:

Sudden trauma, such as road traffic accidents, falls, physical activities or violence

Continuous pressure on the spine, which can be caused by bleeding, bruising, swelling, tumour growth, etc.

Conditions or diseases that affect the spine's strength, including arthritis, cancer, infections or disc degeneration
Due to how extensive the spinal cord's influence is throughout the body, injuries to the spine can have significant and long-lasting outcomes.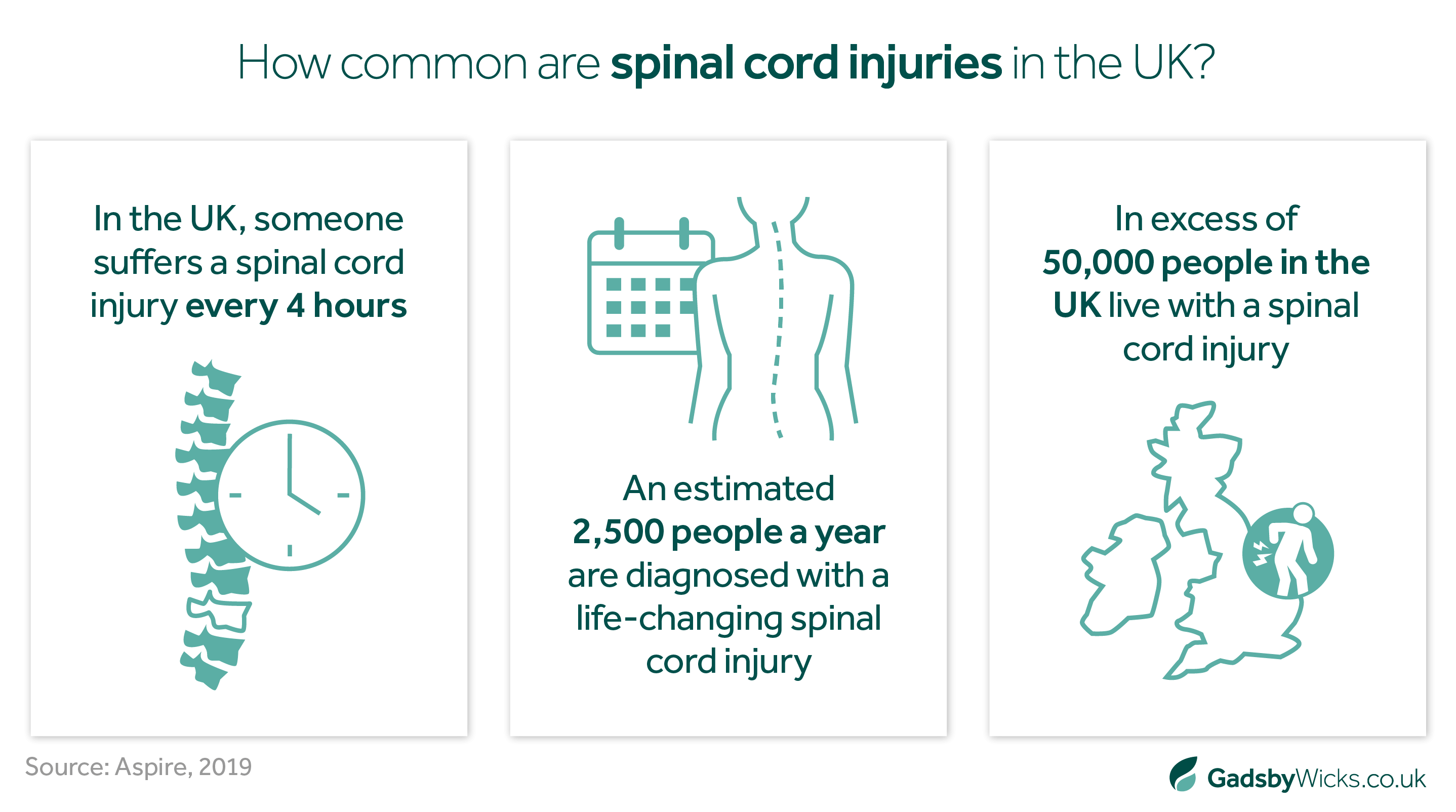 Types of spinal injuries
The level at which the spinal injury occurs will dictate the potential impact of the injury. For example, an injury to the lumbar region (the lower back) will affect the lower body, such as loss of movement of the legs to bowel and bladder problems.
Comparatively, a substantial back injury sustained higher up, such as the cervical region, can result in loss of function of all limbs, known as quadriplegia.
Spinal injury cases will often involve:

Slipped discs as the result of an accident or trauma or the aging process

Sustained pressure on the spine

Bleeding causing a hematoma or bruising of the spine
There are also several syndromes associated with spinal cord injuries, including:

When is medical negligence to blame for spinal injury?
Spinal procedures are performed for countless reasons, including for those requiring decompression surgery or fusion surgery. The spinal cord can be injured when things go wrong during surgery and, depending on the exact point that's damaged, will impact the body and potentially lead to life-changing complications.

Failure to identify a developing spinal cord injury
In the first instance, a failure to diagnose or a significant delay in diagnosing a problem can allow a condition to worsen, which may result in a patient sustaining long-term damage that could have otherwise been avoided.
There are many symptoms that can be a sign of compressed nerves, including loss of bladder, bowel and sexual function. When these symptoms are brought to the attention of a healthcare professional, there may be a small window of opportunity to identify and resolve the underlying issue.
If they fail to recognise the symptoms, or do not consider the true cause of symptoms as one of their differential diagnoses, it may lead to the patient losing control of certain body functions, and potentially even result in paralysis.

What can spinal injury compensation help with?
At Gadsby Wicks, our specialist spinal injury solicitors understand the devastating impact these injuries can have on a person's life. When this is the result of substandard treatment by a healthcare professional, we are here to ensure our clients receive the compensation they deserve.
Like any type of injury compensation claim, the aim of compensation is to help someone get back to a position before their injury occurred or, if this is not possible, support the changes to their life moving forward.
When claiming for spinal injury compensation, this will often cover the costs of treatments, aids and adaptations that help the claimant retain as much of their independence and quality of life as possible.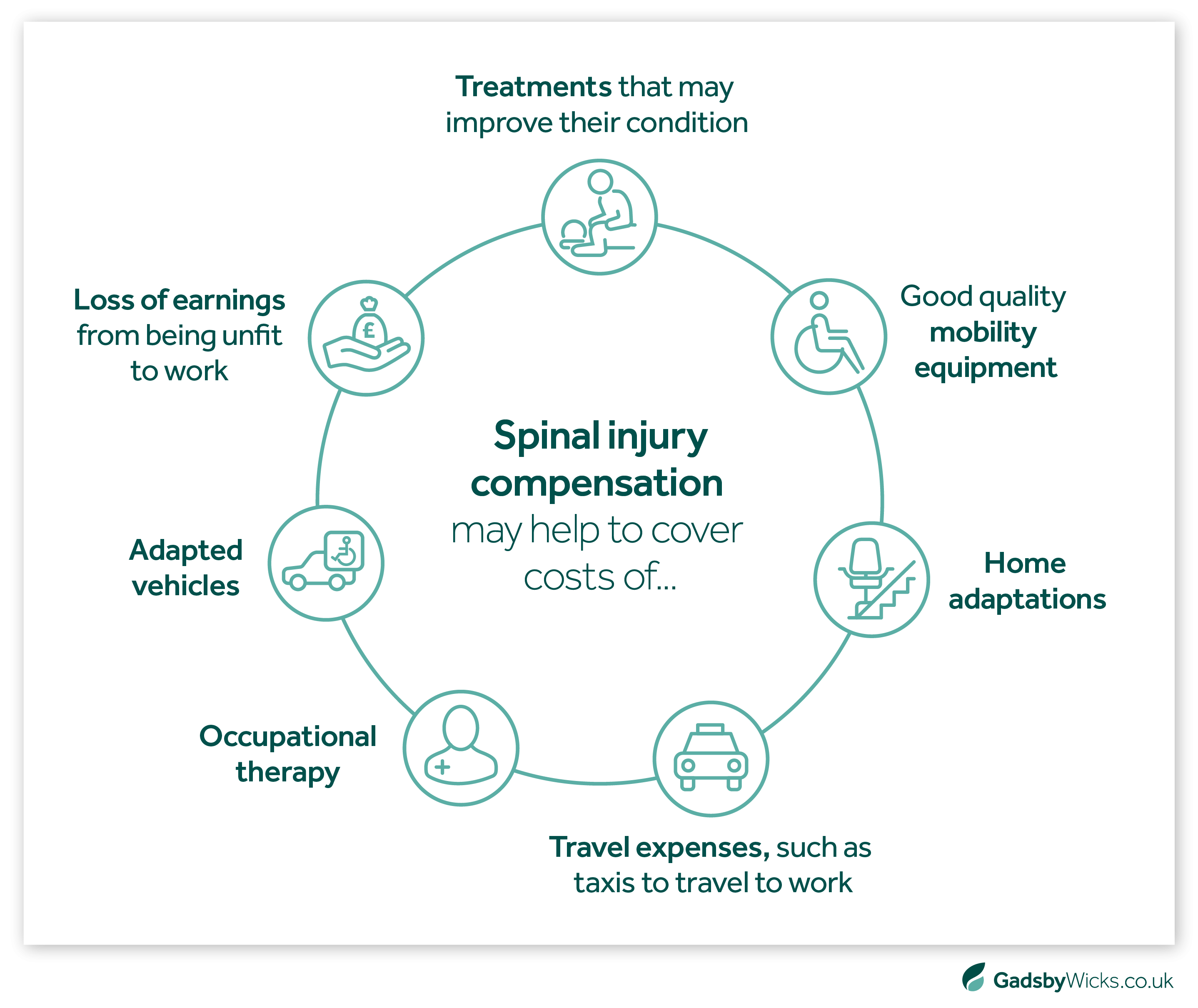 Spinal cord injury during treatment
Often spinal cord injuries sustained during treatment will be related to surgery. However, a patient may receive injuries as a result of the incorrect application of pain-relieving injections by an orthopaedic surgeon, or substandard chiropractic adjustments.
Spinal procedures are performed for countless reasons, including for those requiring decompression surgery or fusion surgery. There are numerous ways that the negligence of a surgeon can lead to an avoidable injury, including:

Wrong-site surgery which misses the affected area entirely

Overstretching or cutting a nerve

Not noticing internal bleeding

Cutting a vessel which may cut off the blood supply to a nerve

Retained surgical bodies (RSBs) – any foreign bodies left inside a patient after surgery
In addition, a patient could make a spinal cord injury claim if their healthcare professionals fail to identify or respond to issues caused during the operation until it is too late. In many cases, mistakes made in surgery can be reversed if addressed soon enough.
If a medical professional is responsible for your spinal injury, we can investigate the circumstances surrounding what went wrong, build a strong case for you and seek the compensation to help you deal with life moving forward.

How can serious back injuries affect people's lives?
The consequences of a spinal injury caused by clinical negligence can range from temporary loss of sensation or foot drop, to someone facing life-altering paralysis and needing long-term care.
Often following spinal injuries, the implications can be split into two areas:

The amount of pain the patient endures

The impact of the injury on their mobility
Both can be greatly limiting to a person, and noticeably affect their personal, work and social lives, including:

They may be unable to perform their job, travel to work, or their workplace may not be accessible anymore, potentially leading to lost earnings

They may no longer be able to go out with friends frequently, or take part in physical activities

They may need help moving around their home, or find it hard to perform tasks like cooking, washing or housework
Fundamentally, serious spinal injuries can make every aspect of a person's life more challenging and require more forward-planning. For example, if the injury has affected bowel or bladder control, they will likely need to know where toilets are at all times.
Consequently, these injuries can have a huge impact on a person's mental wellbeing. They may not want to go out for fear of embarrassment, or feel as though they have become a burden on their family and friends. If they had a particularly active lifestyle before the injury, the psychological ramifications can be significant.

Why choose a Gadsby Wicks medical negligence solicitor?
One specialist
solicitor throughout
your whole case
The only medical
negligence specialists
throughout Essex &
East Anglia
96% of cases are
successfully resolved
without the need
to go to court
Can you only claim compensation if you are paralysed?
No, you do not have to be paralysed. Any spinal injury caused by a healthcare professional can result in a legal claim. However, in cases where the claimant is paralysed, this will likely result in a higher-value claim than someone with comparatively minor mobility problems.
How long do spinal injury claim settlements usually take?
In most cases we would expect a spinal injury claim to take between 2 and 5 years to reach final settlement. This depends on the stance taken by the defendants and how long it takes for medical experts to determine an accurate prognosis for the claimant.
For example, a medical expert may need to wait several years to see if certain nerves recover or improve before they can assess how great an impact the injury has had on the claimant's prognosis, which in turn will quantify the value of their claim.
During this wait, if the defendants have admitted liability or there is a high likelihood that the defendants will be found liable, it is possible for a claimant to apply for interim payments.

Can I claim for damages if my spinal injury happened over 3 years ago?
Like any medical negligence claim, a spinal injury claim must be made within 3 years of the injury being realised. There are exceptions to this – children have until their 21st birthday, and there is no time limit for anyone who is mentally incapacitated.
However, even if your injury occurred longer than 3 years ago, we would still urge you to have a free consultation with our specialist team. Every claim is at the discretion of the Court, and we have the experience and expertise to advise you on whether your claim is viable.
How do I make a claim and what should I expect?
We understand that the claims process can be overwhelming, and that is why we are transparent about what to expect and are there to help you every step of the way.
As specialists in medical negligence, we commit the time and resources necessary to thoroughly investigate your spinal injury claim. Once you have been allocated with one of our experts, we will examine all available evidence to assess whether the care you received was substandard, including:

Medical records

Claimant statements

Witness statements

Complaint correspondence

Independent medical opinion
If we believe you have a viable claim, we will communicate with the defendants on your behalf, conduct further investigation to quantify the value of your claim, and keep you informed every step of the way.
We will decisively pursue the compensation, answers and justice that you deserve, and seek to reach a fitting settlement. 96% of our cases settle without going to court, but we will staunchly argue your case in the unlikely event of a court hearing.