Surgical Complication Claims
Orthopaedic Surgery Claims
A musculoskeletal injury can have a big impact on your life, and leave you needing orthopaedic surgery to make things right. On the rare occasions that corrective surgery goes wrong, patients can experience anything from ongoing discomfort, through to a long-term disability due to damage to bones, joints, ligaments, tendons or the nervous system.
If you have been affected by any of these events, we can help you make a compensation claim for the injury you have suffered.
Find out more about Orthopaedic Surgery Claims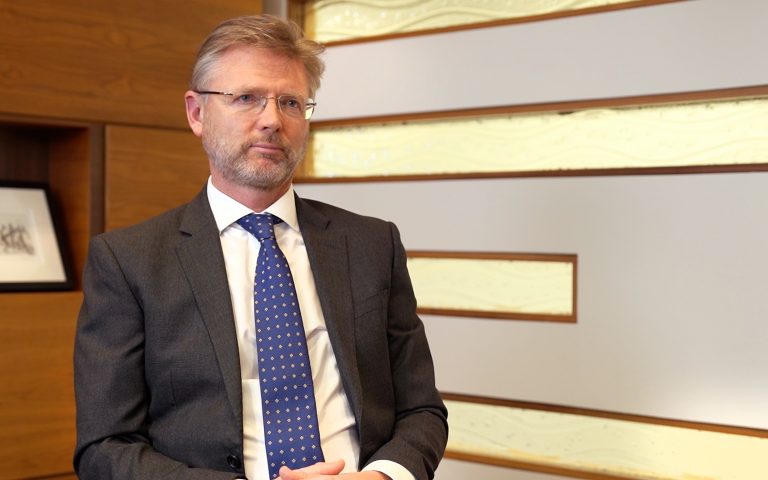 Our solicitors will support you to get the compensation you deserve. Start your medical negligence claim today at absolutely no cost to you.
No win. No fee.
No hidden costs
100% risk-free, only pay if you win
What does orthopaedic surgery cover?
Orthopaedic surgery is carried out on the musculoskeletal system which includes the body's bones, joints and structures. This includes surgery performed on the spine, shoulders, elbows, hands, feet, knees and hips.
Whether it is while replacing structures due to wear and tear or performing repairs following an injury or illness, surgical errors are rare. But there are specific types of orthopaedic negligence claims in surgery that we see more often than others.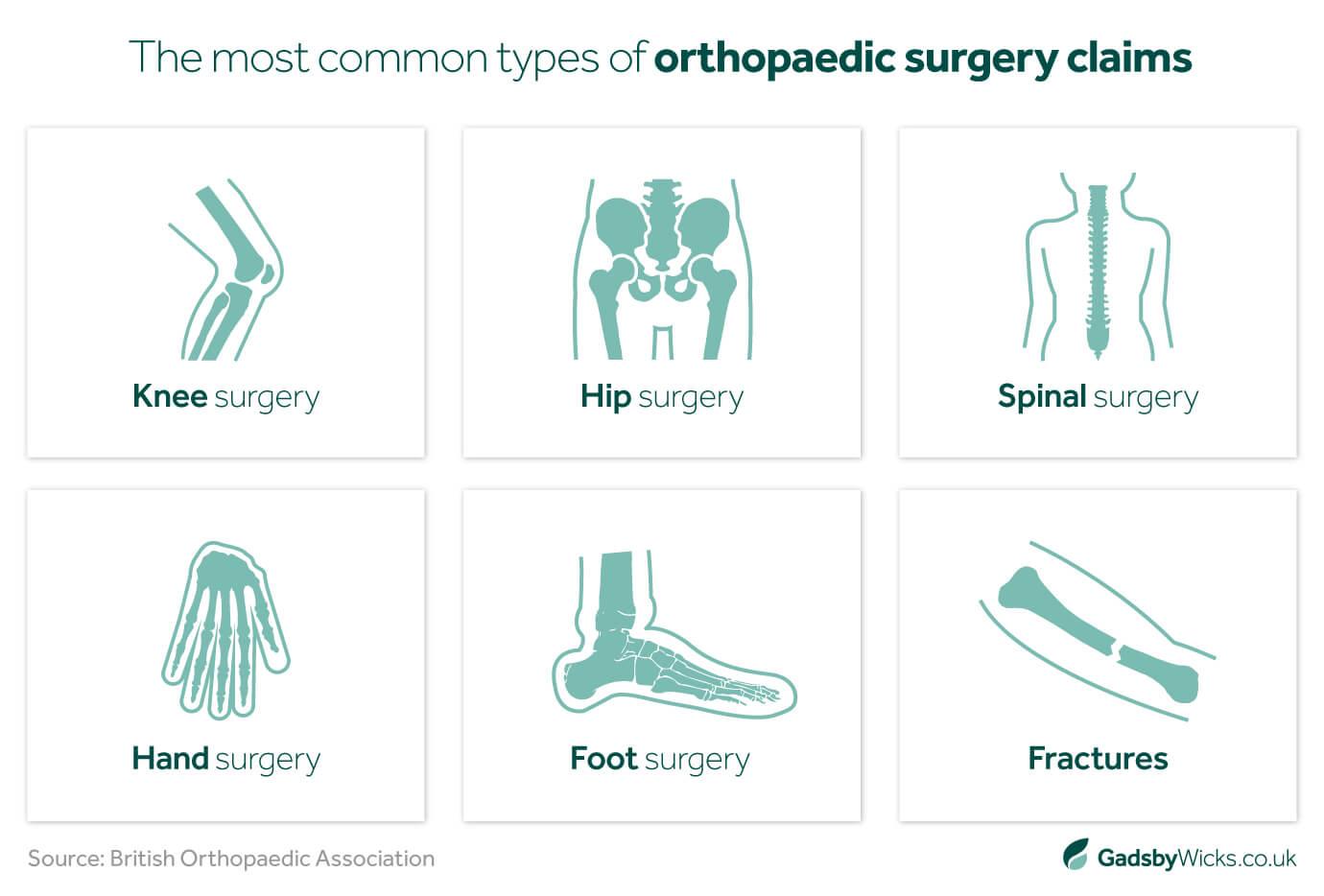 As we get older, wear and tear naturally occurs to our joints and bones. Sometimes this damage is more significant as it is associated with particularly strenuous activities.
This level of damage is usually graded by a medical professional, who will decide whether any intervention is required.
Joint replacement is often explored as a last-resort intervention for those in extreme cases, which is why it can be devastating for patients when the surgery does not go as planned.
Other orthopaedic diseases include bone tumours and sarcomas. These may be experienced as pain and are sometimes visible or felt as a lump under the skin.
Bunions are caused by bones in the foot moving out of position and can become quite debilitating and cause high levels of pain.
When knee surgery or a knee replacement does not meet the required level of care, this can result in one or more issues, including:
Reduced mobility or range of movement
Stiffness
Additional pain
Infections
Blood clots
Bleeding
Deep Vein Thrombosis (DVT)
Damage to arteries, nerves and ligaments in the knee
What impact can a mistake during knee surgery have?
Aside from the physical and emotional impact of knee surgery going wrong, it can have wider implications on your life and financial situation. You may need further medical procedures, have to take time off work, require physiotherapy or need alternative methods of transportation.
By making a knee surgery claim, you could receive compensation that can help you get back on track and improve the areas of your life affected by your injury.
Hip replacement surgery is a major procedure. As with any major surgery, hip replacements come with risks. However, there are a number of things which can go wrong which include (but are not limited to):
The wrong size prosthesis being used
Nerve damage caused during surgery
Anaesthesia awareness
Incorrect fitting of one or more component
Poor monitoring or follow-up care
Infection
Damage to tissues, cartilage, ligaments or veins
What impact can a mistake during hip surgery have?
The last thing anyone expects when having hip surgery is to end up being in more pain than they were to begin with. Likewise, it would be reasonable to expect mobility to be sustained or improved, and not reduced following recovery from the operation.
Should your hip surgery have not gone as expected, the resulting reduction in range of movement, function or ability to go about your normal day could lead you to seek an amount of compensation that helps ease the financial struggles associated with the disability.
We typically see joint replacement surgery claims in relation to patients' knees, hips and shoulders. The implications of poorly judged decisions before, during and after reconstruction surgery can include reduced function and movement in the limb and, in extremely rare cases, amputation.
What impact can a mistake during joint surgery have?
In rare occasions when joint surgery goes wrong, it could lead to multiple areas of your life being impacted.
It could be that you require further surgery which is unnecessary surgery to resolve the problems caused by the first procedure. You may experience ongoing pain or loss of function, meaning you are unable to work or live how you usually would. Your quality of life and financial situation could also be affected in the short and long term.
Treating an orthopaedic injury
Because orthopaedic injuries can happen to people at any age, from newborns to the elderly, and for a variety of reasons, including congenital conditions, trauma, disease and ageing, there are numerous treatments available.
Treatment options for orthopaedic injuries – such as a fracture of the hip, leg, wrist, knee, arm or back – range from immobilising the body part in a splint or plaster, to open surgery or even amputation. Recovery times range from a few weeks upwards, depending on the injury.
What are the main causes of orthopaedic surgery errors?
Sometimes there is a choice between immobilising for a fracture and performing an operation, and then between different surgical techniques. For instance, there are a number of different types of hip replacement.
Usually, an X-ray will be used to help to determine which type of surgery will go ahead. But because X-rays can be misread, misreported or misfiled, this can lead to the wrong treatment, or no treatment being provided at all.
Surgery can go wrong as a result of poor technique or poor choice of procedure, which is when orthopaedic surgery claims can be made.
What can go wrong with a complex fracture in orthopaedic surgery?
When it comes to complex fractures, perhaps as a result of a car accident or fall, the purpose of the surgery that follows is to stabilise and also give the best outcome in terms of function with the least resulting pain. To do this may require a pin and plate in the bones in the arm or leg. If the bones are pinned inaccurately, the bone will repair itself in the wrong position. If this happens, the patient may need to return and have the bone broken and reset.
What can go wrong with a prosthesis in orthopaedic surgery?
Whether it is a new hip, knee or shoulder joint, there is a small risk that the wrong size prosthesis may be used in the joint.
The prosthesis is not generally custom-made, so medical professionals must choose from a range of 'off-the-shelf' sizes. There is a wide range of reasonable sizes to pick from, and if the prosthesis is not an exact fit, this would not be considered negligent.
However, if the prosthesis is too big, resulting in reduced movement, or too small whereby it locks out of joints, you could have grounds for a successful claim.
What can go wrong in corrective surgery?
An osteotomy is a common procedure performed to shorten, lengthen or change alignment of a bone. These surgeries are often carried out to delay or to prevent a younger patient needing to undergo a joint replacement procedure.
Osteotomies are normally effective, but there is also a small risk of surgeons removing too much bone or not taking enough. This would lead to pain, discomfort and possibly the necessity for further procedures needing to be completed.
Can nerves and blood vessels be damaged during orthopaedic surgery?
A key priority during any surgery is to protect the nerves and blood vessels surrounding the operation site. If this fails and an injury results then a range of issues could follow post-operation.
For example, if there is a restriction to the blood vessels and limited supply to nerves or muscle, they could die and result in nerve injury or muscle wastage.
What can go wrong during artificial limb replacements?
If a prosthesis is fitted, it has to fit well in order for the surgery to be considered successful. Replacing parts of the skeleton such as joints or whole bones with incorrectly sized artificial limbs could result in a successful orthopaedic surgery claim.
However, if the prosthesis has a fault in it – that the surgeon could not have known about – that would be a product liability claim, not a medical negligence claim.
How do I know if surgery errors were caused by medical negligence?
Your orthopaedic surgeon will have explained to you what happened, what went wrong and why the mistake happened in the first place.
Some mistakes will not have grounds for medical negligence cases as they may have been impossible to prevent, whereas others can lead to a successful medical negligence claim.
Get in touch with our team if you are unsure, and they will be able to guide you through any next steps and help determine whether you have a clinical negligence claim.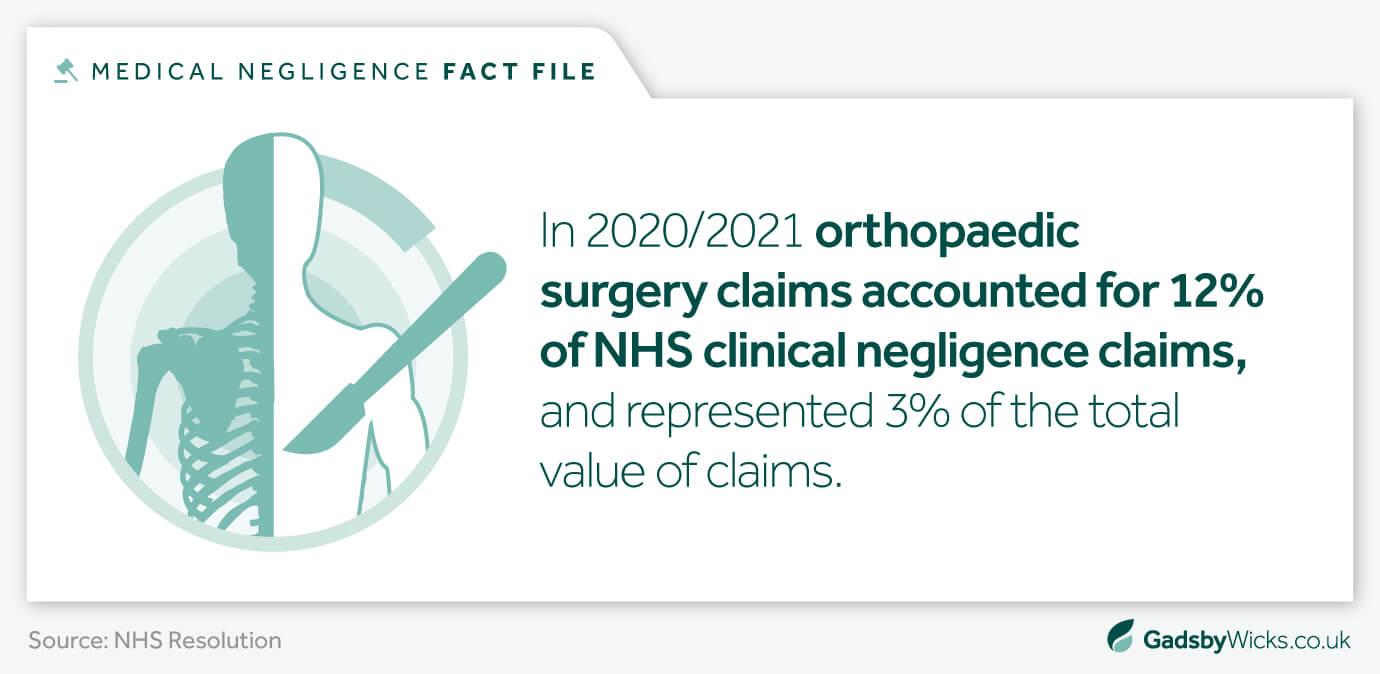 How will orthopaedic surgery claim compensation help me?
Compensation cannot undo what has happened to you, but if you are immobilised following a medical mistake, you may need financial assistance to help you in everyday life.
If it is a permanent or ongoing issue, you might need adaptations to your home. Or you may be expected to make a full recovery, but will be unable to work for a while. You may also need physiotherapy.
Our team can help you get the compensation you deserve and the answers you need. Learn if you have a claim using our online claims tool.
How long do orthopaedic claims take to settle?
We don't like to put a timeline on cases, as each one is often unique and therefore the time to resolution can vary greatly.
In most cases we would expect an orthopaedic surgery claim to take between 2 and 5 years to reach final settlement. There are a number of variables that can affect this timeline, including:
The stance taken by the defendants
How long it takes for medical experts to establish an accurate prognosis
If the defendants admit liability before settlement is agreed or there is probable that the defendants will be found liable, you may be able to apply for interim payments.
For your safety and convenience
video meetings are now available with all our specialist solicitors.
Call us on 01245 494929 or request a callback
Call me back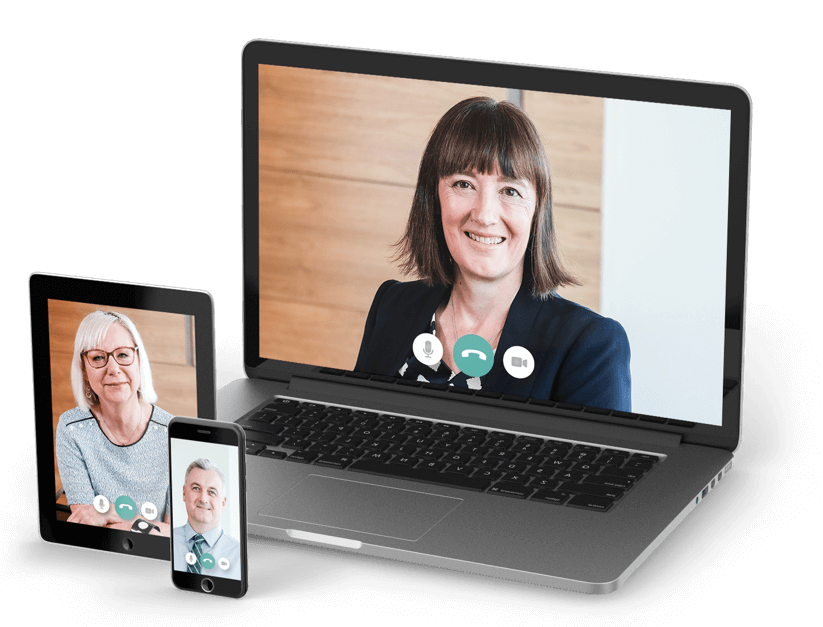 How long do I have to claim?
Generally, an orthopaedic surgery claim must be made within three years of when the injury was noticed. Children making a claim have until their 21st birthday, and there is no time limit for anyone who is mentally incapacitated.
However, the Court does have discretion to allow a claim to be brought out of time and so please contact us anyway so that we can discuss your individual circumstances.
How to make an orthopaedic surgery claim and what to expect
The first step in making an orthopaedic surgery claim is to get in touch with our team at Gadsby Wicks. You can do this in a number of ways.
Provide your details on our 'Do I have a claim?' page and one of our team will be in touch
Request a callback at a time that suits you
Call us when you are ready on

0808 250 1160
You will have an initial conversation with one of our nurse advisors, who will ask you some questions.
What makes Gadsby Wicks right for your orthopaedic surgery claim?
If you would like to know more about Gadsby Wicks, the legal advice we offer and how we can help pursue a successful medical negligence claim, please do not hesitate to get in touch.
Types of Orthopaedic Surgery Claims
If you've been injured during surgery or believe you received an incorrect procedure, get in touch to explore your options.
Why choose a Gadsby Wicks medical negligence solicitor?
One specialist
solicitor throughout
your whole case
The only medical
negligence specialists
throughout Essex &
East Anglia
96% of cases are
successfully resolved
without the need
to go to court