Misdiagnosis Claims
Sepsis Misdiagnosis Claims Solicitors
Sepsis is a life-threatening condition. It can affect anyone at any age, and if missed or wrongly treated by a medical professional, is exceptionally dangerous and potentially fatal.
If you or a family member has suffered or tragically lost their life due to sepsis misdiagnosis or an avoidable delay in treatment, we can help you secure the compensation, answers and justice you deserve.

What is sepsis?
Sepsis, also known as septicaemia, is a potentially life-threatening case of blood poisoning, where the body's response to an infection results in it attacking its own tissues and organs.
This sends the body's immune system into overdrive, causing a series of reactions. This includes widespread inflammation and a significant drop in blood pressure, cutting down the blood and oxygen supply to vital organs.
If not treated quickly, a person can suffer septic shock, rapidly leading to multiple organ failure and possibly even death.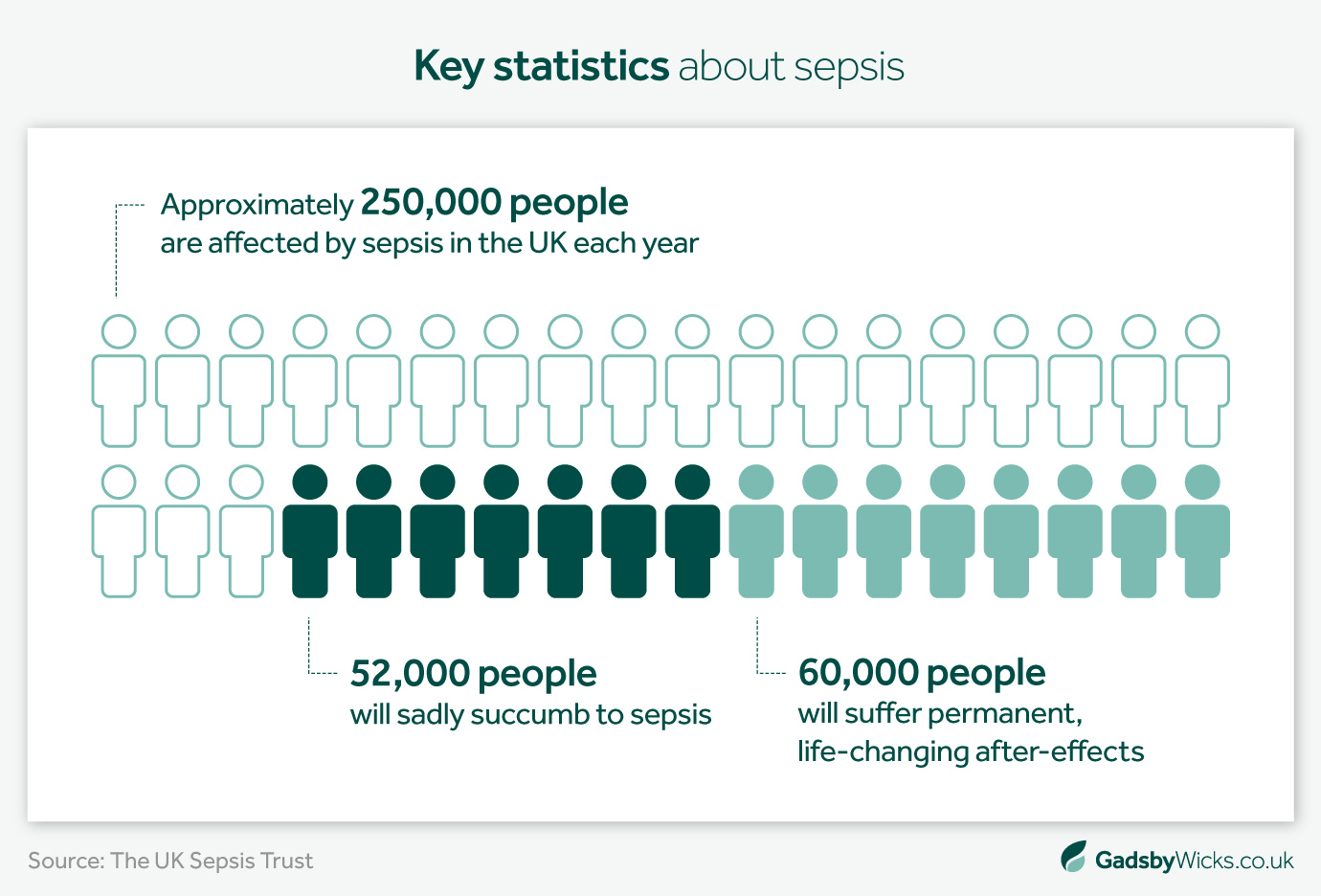 How is sepsis caused?
Sepsis can happen to anyone who has contracted an infection at any age, commonly infections affecting the lungs, abdomen, urinary tract or pelvis.
However, there are some people considered at greater risk of an infection becoming septic:
Babies less than one year old, particularly if born premature or their mother had an infection while pregnant

People over 75

People with diabetes

People with a weakened immune system

People who have recently had surgery or a serious illness

Women who have just given birth, had a miscarriage or had an abortion
Conditions that can lead to sepsis include:
Appendicitis

Flu

Gallbladder infection

Meningitis

Peritonitis

Pneumonia
For your safety and convenience
video meetings are now available with all our specialist solicitors.
Call us on 01245 494929 or request a callback
Call me back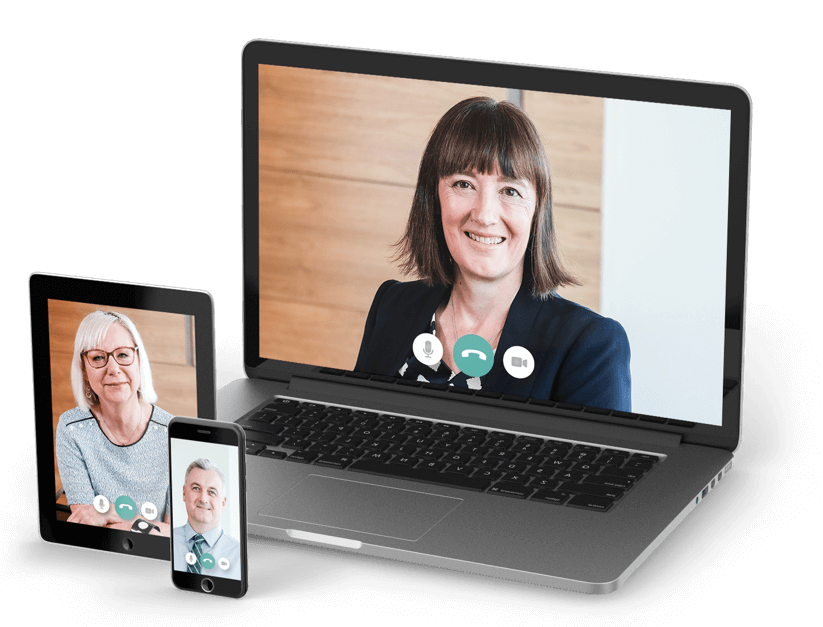 What are the symptoms of sepsis?
Sepsis symptoms can be difficult to identify, and early on are comparable to other less threatening conditions, such as flu or a chest infection.
Some of the first signs that you or someone else may have sepsis include:
Breathlessness

Chills and shivering

Dizziness and fainting

Excessive sweating

Extreme muscle pain

High fever

Rapid pulse

Reduced urine production

Skin discolouration

Slurred speech

Vomiting and diarrhoea
A GP or another healthcare professional may diagnose you with sepsis if you demonstrate the following symptoms:
Fever of over 101ºF or a temperature below 96.8ºF

Heart rate over 90 beats per minute

Breathing rate over 20 breaths per minute

A suspected or confirmed infection
When sepsis becomes more severe, symptoms will include:
Abnormal heartbeat

Breathing problems

Discoloured skin

Extreme chills

Low platelet count

Reduced mental ability

Severe weakness

Unconsciousness
How can a sepsis misdiagnosis happen?
The window to diagnose and treat sepsis is often incredibly short. Someone can proceed from the early signs of sepsis to multiple organ failure in a matter of hours.
Early treatment of sepsis or septic shock with antibiotics and fluids gives patients a greater chance at survival and recovery, and prevention of long-term organ or limb damage. Unfortunately, sometimes the rapid nature of sepsis means that by the time someone arrives at a doctor or hospital, nothing can be done to prevent permanent damage or death.
However, an even more difficult situation to come to terms with is when there was an opportunity to treat the condition early, but a healthcare professional's failure to recognise the symptoms leads to a misdiagnosis or delayed diagnosis.
When this happens, the window to treat sepsis can quickly shut. By the time the condition is diagnosed and addressed, it may already be too late to prevent long-term organ damage and limb damage, or to save someone's life.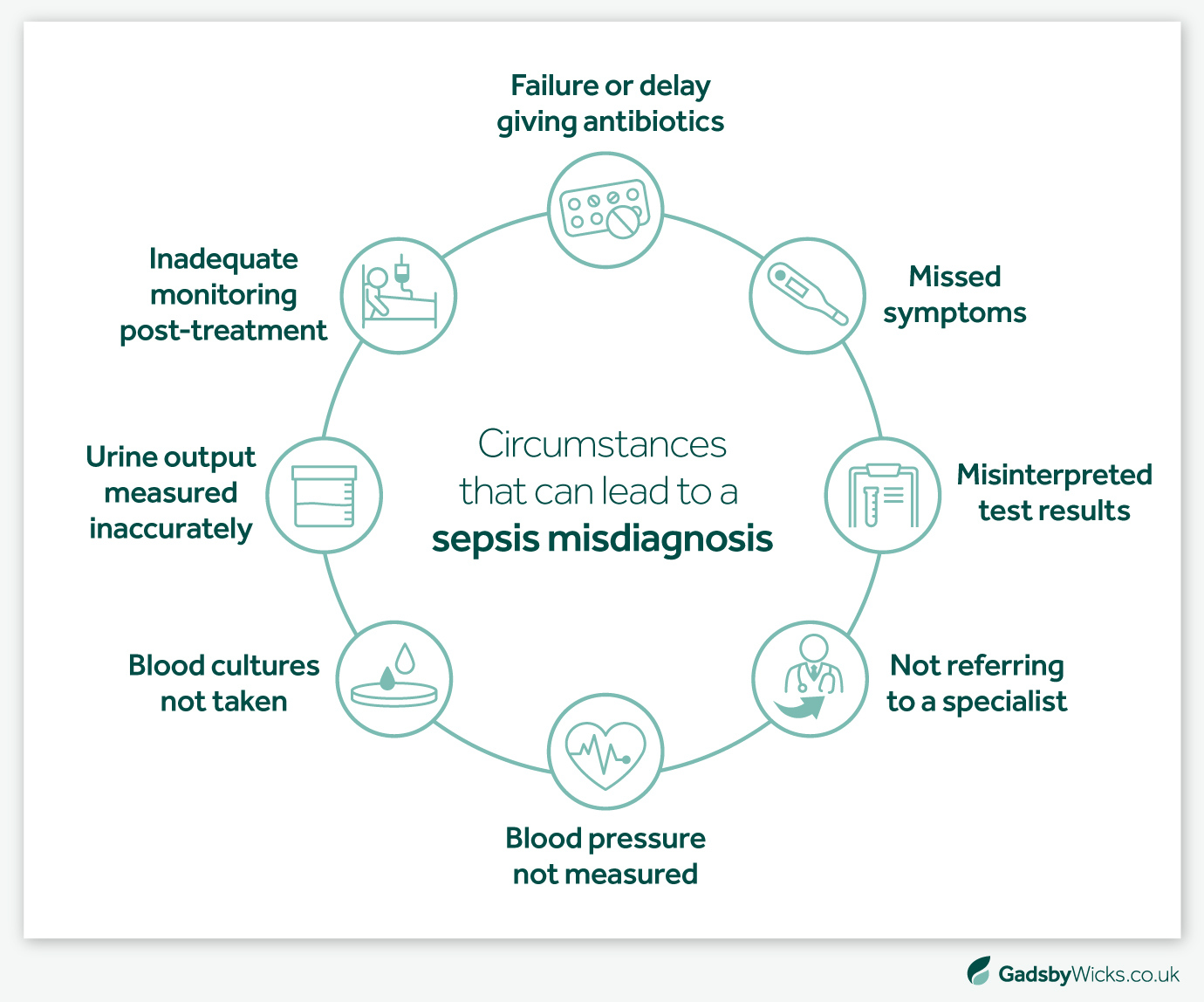 There are also circumstances known as 'supervised neglect'. This is when a healthcare professional has a record tracking their patient's deterioration and symptoms, but has done nothing to address this.

What are the consequences of a sepsis misdiagnosis?
Due to the rapid progression of sepsis, a medical misdiagnosis, delayed diagnosis or delay in treatment can have life-changing outcomes for a patient and their loved ones.
If misdiagnosed, sepsis can lead to organ failure, which can affect someone for the remainder of their life. For example, permanent damage to the kidneys could result in lifelong dialysis treatment. The risk of damage to vital organs such as the brain, heart and lungs increases the longer sepsis is untreated, which can lead to constant pain, the need for ongoing treatments and therapies, and shortened life expectancy.
Sepsis can also lead to tissue death or gangrene, which may require digits or limbs to be amputated to save someone's life.
The longer sepsis is left undiagnosed or untreated, the greater risk that the affected person succumbs to the condition. Any death is a tragedy, leaving loved ones devastated and potentially in an unstable financial position. But if earlier action could have prevented their death, it can be even harder to come to terms with the loss.

How do I prove a sepsis misdiagnosis was caused by negligence?
To make a claim for sepsis that was misdiagnosed or mistreated, your solicitors will need to prove three key elements:
A healthcare professional breached their duty of care towards you

You suffered pain, injury, loss or damage

Your suffering was a direct result of the professional's breach of duty
As specialist medical negligence solicitors, we will assess all available evidence for your claim to establish what happened and the standard of treatment you or your loved one received. This will often include:
Medical records

Personal statements

Witness statements

Photographs
We will also speak to relevant, independent medical experts about the details of your case. Depending on what healthcare professional is considered liable for the misdiagnosis or delay in diagnosis – GP, doctor, nurse, paramedic, etc. – we will talk to an impartial expert working in the same role to determine whether their actions or inactions were reasonable based on the symptoms you or your loved one presented.

If they inform us that the treatment provided fell below a reasonable standard and was likely to have led to the consequences you suffered, this could be grounds to claim for compensation.
How can compensation help following a sepsis misdiagnosis?
Medical negligence compensation is designed to help you return to the position you would have been in had your condition been correctly diagnosed or, if this is not possible, support the changes this had on your lifestyle.
How much compensation you receive for a sepsis claim will depend on the pain, suffering and loss of amenity you endured, and the extent of the impact the misdiagnosis or delayed treatment has had on your life.
Compensation can help cover a variety of costs, including:
Adaptations to the home and vehicles

Loss of earnings

Future financial losses due to an inability to work or a need to change job

Aids and equipment

Ongoing treatments, therapies and medication

Travel expenses

Therapies or support for any psychological harm caused by the experience

Paying for services the claimant cannot perform anymore, such as gardening
Beyond compensation, making a claim for a sepsis misdiagnosis can secure answers to what happened to you or your loved one. This can help you gain closure and inspire initiatives that prevent what happened to you from happening to someone else in the future.

What if a sepsis misdiagnosis leads to a patient's death?
Sadly, death is a very real possibility if a misdiagnosis delays someone from receiving treatment for sepsis. In these circumstances, it is still possible for the family and dependants to make a medical negligence claim on behalf of the deceased.
Someone can bring a claim following the death of the claimant if:
They are named as beneficiaries of the deceased's estate in a Will or entitled to a share of the estate under intestacy law

They qualify for the bereavement award under The Fatal Accidents Act 1976

They were dependent on the deceased either financially or for services that the deceased provided to them (or had a reasonable expectation they would become dependent in future)
You can learn more about how to approach a claim of this nature in our article 'Death by medical negligence – how to make a claim'. In sensitive circumstances such as these, our experienced medical negligence team will work closely with a claimant's family and loved ones to establish whether a claim can succeed.

How long does a sepsis misdiagnosis claim take to settle?
It is impossible to exactly predict how long a sepsis misdiagnosis claim will take to reach final settlement. This can change significantly depending on the stance taken by the defendants and the time it takes to get responses from medical experts.
However, we would typically anticipate a claim of this nature to take somewhere between two and five years to conclude.
Is there a time limit to make a claim?
In most circumstances, you have three years from when your injury is realised to make a misdiagnosis claim. There are exceptions to this, which include children affected by a sepsis misdiagnosis having until their 21st birthday to make a claim, and there is no time limit for anyone who is mentally incapacitated.
If the claimant dies, then the three-year time limit starts from the date of their death.
If you think that the three-year time limit may have expired, please still get in touch with us if you believe you have a claim. Each claim is at the discretion of the Court, and we have the experience and expertise to advise you on whether your claim may still be viable.

Where do I start with a sepsis misdiagnosis claim?
At Gadsby Wicks, our solicitors solely specialise in medical negligence law, and for nearly 30 years have helped clients in Essex, East Anglia and beyond secure their financial future.
We recognise how devastating an impact a sepsis misdiagnosis can have on an individual and their loved ones. We are passionate about ensuring that those affected by these events are rightly compensated for what happened, and receive answers for what went wrong.
If you believe you have a claim, it costs nothing to enquire. Complete our online form or get in touch with our team to discuss your situation – we only ever take on your claim if we believe we can win it.

If you or a family member have been let down by a nurse, doctor or hospital, talk to us about your options.
Why choose a Gadsby Wicks medical negligence solicitor?
One specialist
solicitor throughout
your whole case
The only medical
negligence specialists
throughout Essex &
East Anglia
96% of cases are
successfully resolved
without the need
to go to court