Cancer Misdiagnosis
Lung Cancer Claims Solicitors
When medical professionals tell you something inaccurate about your body, it can feel like an incredible betrayal of trust. If you or someone you care for has had a lung cancer misdiagnosis, we can help you pursue a claim.
What is meant by a lung cancer misdiagnosis?
Lung cancer starts in the respiratory system and one of the first signs of its presence is often a persistent cough. Other symptoms of lung cancer include breathlessness, weight loss, coughing up blood, fatigue and chest infections.
These symptoms are non-specific to one disease and could represent many different conditions, and there are reasonable steps a healthcare professional should take when investigating these symptoms to determine whether lung cancer is a possibility, or rule it out completely.
But when a healthcare professional's actions or inactions fail to provide an accurate diagnosis and this leads to a delay in treatment, progression of the cancer which then impacts on life quality or expectancy, a person could be entitled to make a lung cancer misdiagnosis claim.
The sooner lung cancer is correctly diagnosed, the more likely it is that treatment options will be available to extend a person's life, or remove the cancer entirely. Delays caused by mistakes or failing to recognise the severity of symptoms can have a detrimental impact on an individual, and could shorten a person's lifespan or deprive them of the opportunity for cure.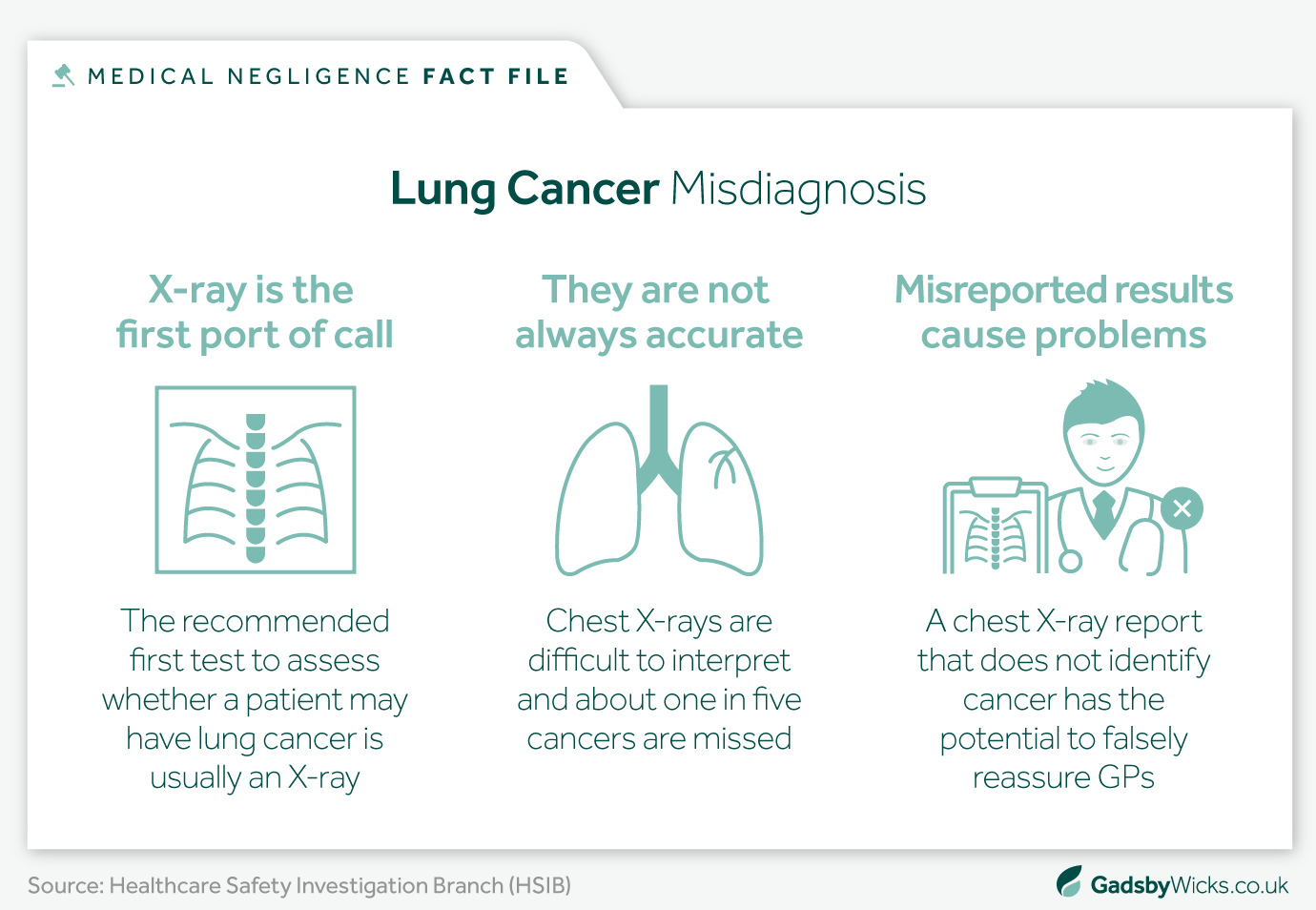 What are the different types of lung cancer?
There are two types of lung cancer, Small Cell Lung Cancer (SCLC) and Non-Small Cell Lung Cancer (NSCLC)
Small Cell Lung Cancer sees malignant cells form in lung tissue and can spread to other parts of the body quickly. Non-Small Cell Lung Cancer tends to spread at a slower rate than Small Cell Lung Cancer does, and as it manifests as tumours, can be more easily removed by surgery.
How do I know if my lung cancer misdiagnosis was due to clinical negligence?
If a medical professional's actions have led to a delayed diagnosis of lung cancer, affecting treatment options available and quality of life, we can help claimants get the answers they deserve.
To identify whether a lung cancer misdiagnosis was due to clinical negligence, we must understand what happened that led to a healthcare professional failing to identify this condition, leading to an avoidable delay in treatment.
A GP may have failed to refer their patient for further tests and examinations, attributing the patient's symptoms to different respiratory issues such as asthma. Perhaps the patient's symptoms were interpreted as signs of Chronic Obstructive Pulmonary Disease (COPD), resulting in the patient being treated for the wrong illness and allowing the lung cancer to progress further.
Or, the patient may have undergone appropriate tests, such as a chest X-ray or CT scan, but their radiologist misses warning signs or misreports the results.
We will investigate all available evidence to establish whether mistakes were made during a patient's treatment, and if these directly led to their condition progressing and worsening over time, resulting in a change to their treatment options, prognosis and any pain and suffering they experienced.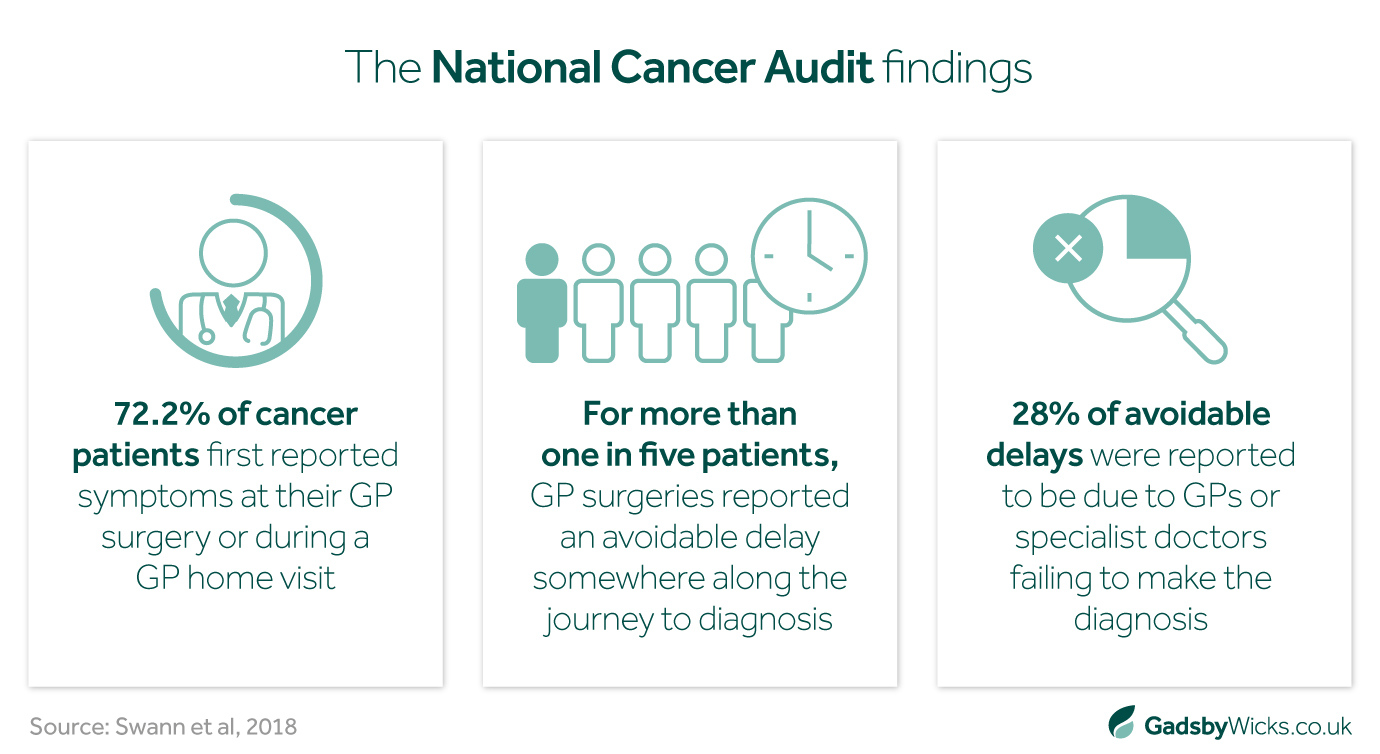 What are the main causes of lung cancer misdiagnosis?
There are many different tools used by medical professionals for diagnosing lung cancer. These include CT scans, ultrasound scans, biopsies and bronchoscopies.
When an individual is incorrectly diagnosed, it could be caused by one of these oversights:
A GP fails to refer the individual to a specialist
An individual is referred, but not to a respiratory specialist
An individual is referred to the respiratory specialist, but they misinterpret symptoms
An individual is referred, sent for the right tests, but the results are misreported or they are reported and incorrectly filed
Clinicians are expected to be skilled at recognising the difference between the symptoms of something as serious as lung cancer and other less serious conditions. If this was not your experience, then you may have grounds to take action.
What are the implications of a lung cancer misdiagnosis?
Depending on the delay in getting an accurate diagnosis and the stage of the lung cancer, a patient may need to undergo more long-term, aggressive treatments, such as chemotherapy or radiotherapy, to treat their condition. A patient may also be left with a worse prognosis, or the prospect of needing one of their lungs removed.
Furthermore, if a healthcare professional believed their patient was suffering from another condition, they may have undergone unnecessary treatment or surgery as a result.
How will lung cancer claims compensation help me?
If a lung cancer misdiagnosis has affected a person's prognosis, quality of life or life expectancy or resulted in death or earlier death than would have been the case, compensation can be awarded to support them or their families.
Compensation can cover costs for:
Carers and cleaners for the individual
Loss of earnings for the individual
Private medical treatment for the lung cancer
Therapy and psychological support
Equipment, aids and home adaptations
Support for dependents if the misdiagnosis resulted in fatality
Where do I start with a lung cancer misdiagnosis claim?
Pursuing a legal case during an already difficult time can feel daunting, but with the right legal team behind you, you can get the justice you or your loved one deserve.

The first step involves us assessing whether you have a lung cancer misdiagnosis claim that has resulted in delayed diagnosis or misdiagnosis. This conversation will be with one of our nurse advisers who will ask for all the details they need. They will then discuss your case details with our cancer misdiagnosis solicitors and will let you know if we think that we can help you to pursue a case.


Learn more about our specialist medical negligence solicitors to find out what makes us different. Or, if you are ready, get in touch with us through one of the following methods:
How much will it cost me to make a lung cancer misdiagnosis claim?
We offer a no-win no-fee agreement, which means that you pay nothing before or during your case. If you obtain compensation then you will be asked to make a contribution to your costs from that compensation. If your case is not successful then we don't ask for a penny.

If you would like to learn more about how your claim is funded, you can do so here.
How long do lung cancer claims take to settle?
We generally expect a cancer misdiagnosis claim to take anywhere between two and five years to reach settlement. However, it is impossible to give an exact timeline as each case is unique – the time it takes to reach settlement can be affected by the stance taken by defendants and how long it takes to receive answers from medical experts.

If you are given a definitive timeline or promise of a specific amount of compensation upon making an enquiry with a solicitor, we would urge you to proceed with caution. It is highly improbable they will have access to this information, and could suggest they are just doing what they can to get you to take on their case.
How long do I have to claim?
The same rules apply for all medical negligence claims, in that there is generally a time limit of three years from the date of knowledge for someone to make a misdiagnosis claim. However, there are exceptions so it is always worth making an enquiry with us.
The date of knowledge is the date that an individual could reasonably be expected to know that something was wrong with them. For example, if a scan showed a shadow on a lung, but this was wrongly reported at the time, it could be several months or even years before you realise that nothing was resolved. The date of knowledge ensures that you can still make a claim in spite of this delay.
There are exceptions to the three-year rule, which include:
Claimants under the age of 18 have until their 21st birthday to make a claim
If the claimant is mentally incapacitated at the time of the negligence occurring or as a result of the negligence
If the claimant passes away within the three-year time period for the claim to be brought, the three-year limit begins anew at the date of their death
Where a person dies as a result of their treatment, dependents who are under 18 at the time of that death have until 3 years after their 18th birthday to bring a claim
Why use Gadsby Wicks for your cancer misdiagnosis claim?
We have a vast range of experience in cancer misdiagnosis claims and are always happy to answer any questions you may have.

Our specialist solicitor team can guide you through your case, and help you to achieve the outcome your family deserves. We have been serving clients in Essex and East Anglia since 1993 and have several solicitors accredited as clinical negligence specialists by the Association of Personal Injury Lawyers, and three solicitors accredited by the Law Society's Clinical Negligence Accreditation Scheme.
If you would like to know more about our team at Gadsby Wicks and what we can do for your Lung Cancer Misdiagnosis case, please get in touch.

Contact our experts about Lung Cancer Claims
If you or a loved one have experienced medical negligence and would like to speak to someone about your options, our team is here to listen and advise you on your next steps.
We are the only medical negligence specialist firm in Essex & East Anglia
96% of our cases are successfully resolved outside of court
No win. No fee. You only pay if your case is successful
Work alongside one specialist solicitor throughout your entire case
Why choose a Gadsby Wicks medical negligence solicitor?
One specialist
solicitor throughout
your whole case
The only medical
negligence specialists
throughout Essex &
East Anglia
96% of cases are
successfully resolved
without the need
to go to court