Birth Injury Claims
Cerebral Palsy Claims Solicitors
1 in 400 children born in the UK is diagnosed with Cerebral Palsy, a condition that can dramatically alter a person's movement, coordination, posture and development for the remainder of their life, and require round-the-clock, specialist care.

If your child has been affected as a result of a mistake by a doctor, midwife or another healthcare professional, we can see that the person responsible for their birth injury is held accountable for their mistakes, and that your family receives the financial support needed to move on.
Find out more about Cerebral Palsy Claims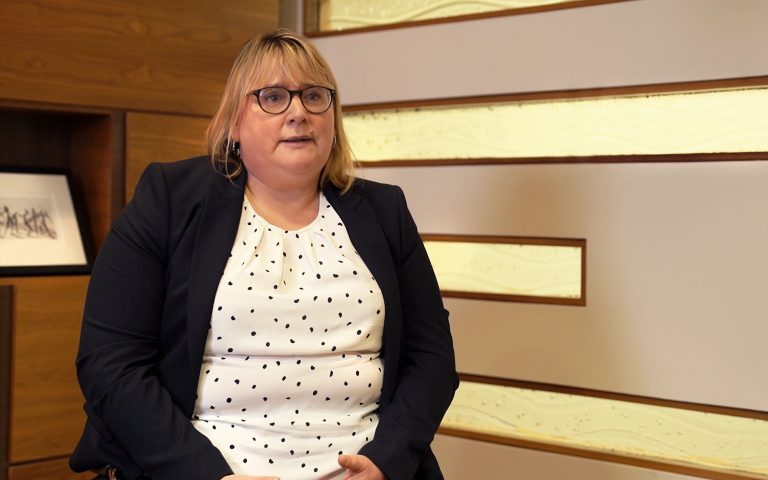 Our solicitors will support you to get the compensation you deserve. Start your medical negligence claim today at absolutely no cost to you.
No win. No fee.
No hidden costs
100% risk-free, only pay if you win
For your safety and convenience
video meetings are now available with all our specialist solicitors.
Call us on 01245 494929 or request a callback
Call me back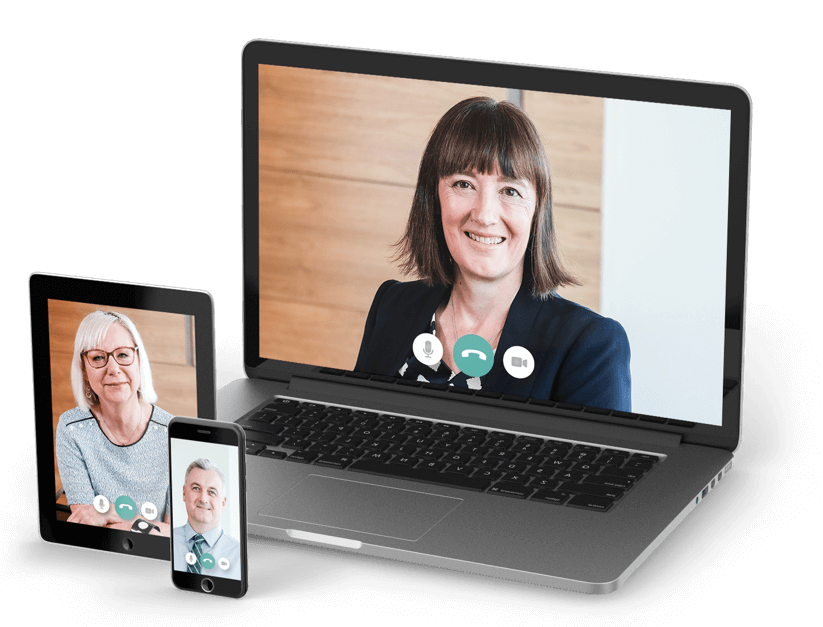 What is Cerebral Palsy?
Cerebral Palsy is a term that describes a group of non-progressive conditions caused by an acquired brain injury (ABI) to the developing brain. This brain damage can occur before, during or shortly after delivery.
The symptoms of Cerebral Palsy can vary greatly depending on how the brain has been injured, where the brain was injured, and when the injury occurred.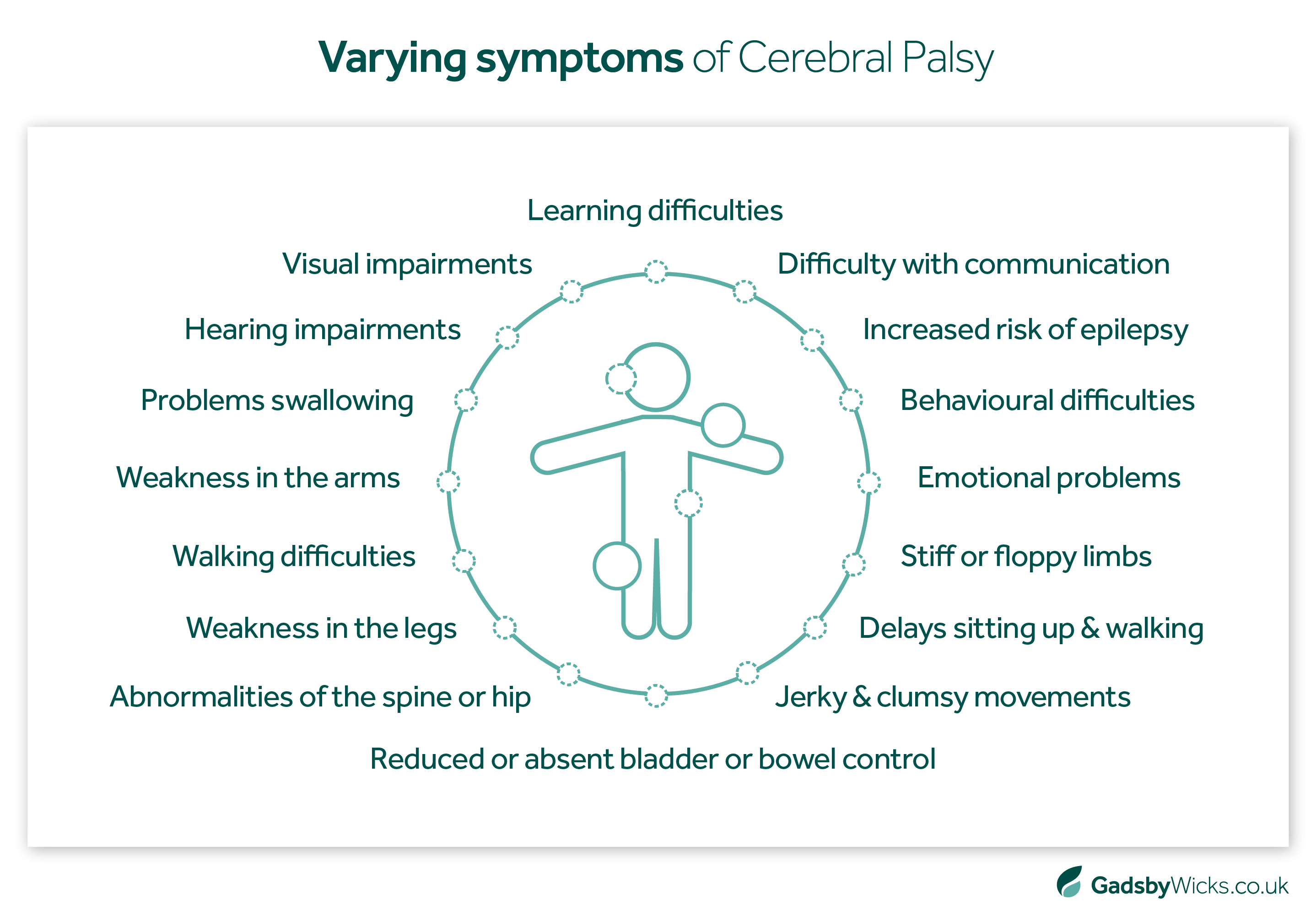 Different types of Cerebral Palsy include:

How is Cerebral Palsy diagnosed?
Often, it can take several weeks or months for the symptoms of Cerebral Palsy to become apparent to parents and healthcare professionals. Other times the symptoms emerge early, such as a baby experiencing fits or having difficulty passing urine.
If your child is unwell or does not meet certain milestones, they may be referred to a paediatrician who will arrange for any necessary tests, such as an MRI scan. The paediatrician will then advise if other referrals are appropriate, such as to a physiotherapist, speech and language therapist, or to an educational psychologist.
A child with Cerebral Palsy's development may also be judged against the Gross Motor Function Classification System (GMFCS). This categorises a child's mobility and physical capabilities into one of five categories, with Level 1 indicating slight problems with balance and coordination, to Level 5 where they must be transported in a manual wheelchair at all times.
Once a diagnosis has been made, and it is determined that the child's injury was caused by substandard care during birth or during the mother's antenatal care, then they may be eligible to make a Cerebral Palsy claim.
How is Cerebral Palsy in babies caused?
Cerebral Palsy can occur due to a problem affecting the baby's brain development in the womb, often as a result of a reduction in the supply of oxygen or blood to the baby's brain.
It can also be caused by the baby suffering a stroke, or because the mother contracted an infection such as chickenpox or rubella during her pregnancy.
During or after the birth, Cerebral Palsy can be caused by a temporary lack of oxygen to the baby, a head injury, stroke or meningitis, or another brain infection.
Babies born before 37 weeks are more at risk of Cerebral Palsy because their brains are less developed and their risk of infection is higher than those born at full-term.
Cerebral Palsy is non-progressive, which means that it will not get worse with age. There is currently no known cure. However, there are treatments that can help to reduce the symptoms associated with the condition.

When can medical negligence be blamed for Cerebral Palsy?
During the antenatal period, if a healthcare professional fails to adequately monitor the health and wellbeing of mother or baby, it is possible that they fail to identify signs that indicate the baby is at risk.
For example, if a baby's growth rate sharply declines from its previous trajectory, this could be a sign that the placenta has separated too early from the uterus, depriving the baby of oxygen and nutrition. If this is overlooked, or an intervention is unjustifiably delayed, this may be grounds for a medical negligence claim.
There are also incidents of supervised neglect. This is where a healthcare professional records potential warning signs in their notes, but does not recognise that these are warning signs. This can again result in avoidable delays that prevent the mother or baby from receiving an intervention until it is too late.
During birth, a delayed reaction to problems like preeclampsia or shoulder dystocia, or failure to perform the correct manoeuvres or techniques in these circumstances, could lead to a medical negligence case if the baby suffers injuries as a result.
As specialist solicitors in all forms of birth injury claims, we will thoroughly investigate the actions or inactions of the healthcare professionals involved in your situation, to determine whether you have a viable claim for the injuries your child sustained.
Material contribution
If there is more than one potential cause of the injury, and one or more of those is non-negligent, but medical science cannot determine with absolute certainty what the main cause of a claimant's injury is, then a claimant is entitled to 100% of the compensation.

How can Cerebral Palsy change a family's life?
Depending on the extent of the brain damage a baby sustains during pregnancy or during birth, Cerebral Palsy can have life-changing consequences for them and their loved ones.
Everyone's experience of Cerebral Palsy is different. Some will be relatively unhindered by the condition, while others will be entirely dependent on the support of others.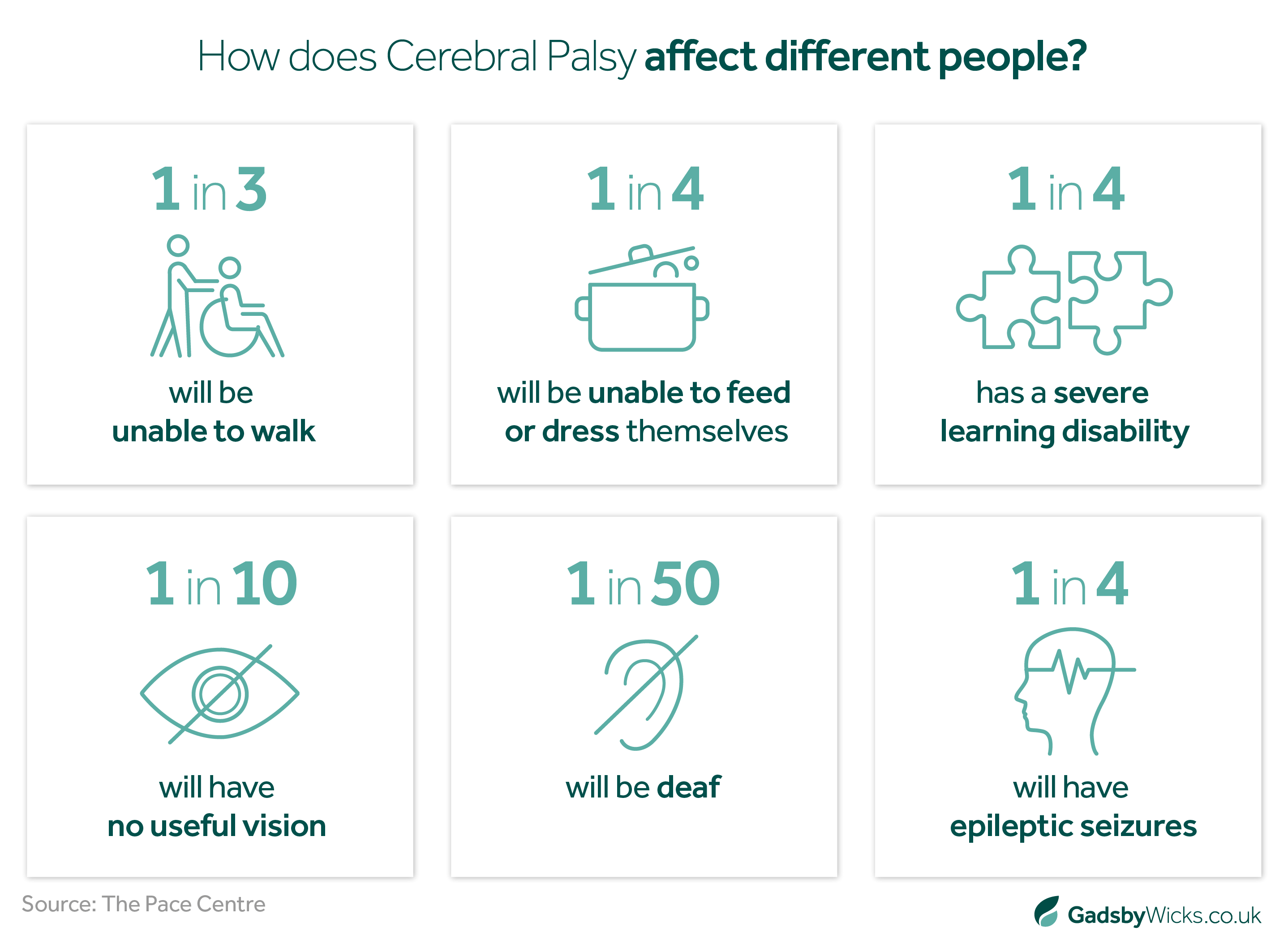 These potential outcomes can drastically change what the child needs to support their quality of life as they grow up:

Home adaptations, such as wheelchair access, hoists, wet rooms, therapy rooms, garages, etc., or the need to move to a more suitable property

Access to mobility aids and equipment

24-hour care to support their daily activities

Attending a specialist school

A clear, bespoke care plan, which may include physiotherapy, hydrotherapy, speech and language therapy, etc.

Their future job prospects may be limited or non-existent
Furthermore, this can also impact parents, siblings, other family members and friends. It is likely their lives will be altered dramatically in order to provide the care and support that the child needs.

Claiming for Cerebral Palsy
At Gadsby Wicks, we understand exactly how significantly a Cerebral Palsy diagnosis can change a person's life, and the lives of those around them. While the specifics of the injury will vary from child to child, it is likely that this will influence the course of the rest of their life.
When this injury was directly caused by an act of clinical negligence, our solicitors ensure that those responsible, whether they represent an NHS trust or private hospital, are held accountable and that our clients receive the compensation they deserve to make their lives as comfortable and fulfilling as possible.
How long can Cerebral Palsy claims take to settle?
There is no standard duration for a Cerebral Palsy claim as every case is unique. However, we would advise that it will often take upwards of 6 years to investigate a birth injury claim, determine liability and quantify the value of the final settlement.
In many cases, it will be impossible for medical experts to assess the full extent of a child's injury, and the long-term care and support they will require, until several years after the incident. Once a claim is started, a claimant may request a stay of proceedings to allow for the nature of the injury to be determined, which will influence the value of the final settlement.
During this wait, claimants can apply for interim payments. If the defendant has admitted liability, been found liable for some harm caused to the claimant, or the Court considers it very likely that the defendant will be found liable, these payments can allow families to set up a care regime that works for them, move to more suitable accommodation and start beneficial therapies and treatments before the final settlement is reached.
How long do you have to make a claim?
As the claimant in a Cerebral Palsy claim will typically be under the age of 18, they have until their 21st birthday to make a claim. There is no time limit for anyone who is mentally incapacitated.
In special circumstances, the Courts sometimes allow claims outside these time limits. However, we would always advise that there is no benefit to delaying an injury compensation claim, and it is helpful to get in touch with legal services as soon as possible.
What is the average settlement amount for Cerebral Palsy claims?
There is no straight answer to the amount of compensation that a claimant will receive following a Cerebral Palsy claim. Generally speaking, the majority of the compensation awarded will be based on the claimant's long-term care requirements due to the injuries they sustained.
Due to the long-term care that a claimant often requires following a serious birth injury, it is common for compensation to be awarded as both a lump sum and annual periodic payment orders (PPOs). These annual payments help ensure that the claimant will always receive the financial support they need to cover their care requirements.
The below case studies offer insight into the potential value of Cerebral Palsy claims:

What can compensation for Cerebral Palsy help with?
It is entirely possible for someone with Cerebral Palsy to live a happy, fulfilling life in spite of the challenges it presents. However, much of that can depend on the compensation that you receive.
Following a successful Cerebral Palsy claim, the compensation awarded can be applied in a variety of ways to ensure the continued wellbeing of the child and also the family by targeting their specific needs. This can include:

Hiring a professional case manager to coordinate the claimant's care and therapy package, consult with architects, etc.

Adaptations to the family home – stairlifts, ramps, wet rooms, hoist systems, garages, increased storage space, etc.

Acquiring more suitable accommodation in line with the claimant's needs

Hiring live-in care assistants to provide full-time care

Aids and equipment such as wheelchairs, assistive technology and special seating

Treatments and therapies to maximise mobility and minimise discomfort – physiotherapy, hydrotherapy, speech and language therapy, corrective surgeries, etc.

The salary of the Deputy appointed by the Court of Protection

Additional holiday and travel expenses

The cost of loss of earnings the claimant may have received based on the achievements and academic performance of their parents and siblings
How do I make a Cerebral Palsy claim and what should I expect?
Before making a Cerebral Palsy claim, it is important to be aware that the law does not allow someone under the age of 18 or a protected party (someone who lacks the mental capacity to make certain decisions for themselves) to bring a medical negligence claim on their own.
Therefore, the claimant will require a litigation friend to instruct the solicitors for their claim and handle all proceedings on their behalf. A litigation friend, often a claimant's parent or guardian, will essentially act as the claimant during the claim, providing evidence and statements where required.
To give yourself the best possibility of achieving a successful claim that secures your child's future, it is important to speak to specialist medical negligence solicitors.
At Gadsby Wicks, medical negligence is our only focus, and we are among the best firms in England for this area of law:

We have been dedicated to medical negligence since 1993

We are authorised and regulated by the Solicitors Regulation Authority

We are the first firm in England to have two or more lawyers accredited as accredited clinical negligence specialists by the Association of Personal Injury Lawyers

Four of our solicitors are also accredited by the Law Society's Clinical Negligence Accreditation Scheme

We have in-house medical professionals to assist with your case

Managing Partner Gillian Gadsby is on the Clinical Negligence Specialist Panel for the Action Against Medical Accidents (AvMA) charity
We will guide you through every stage of the claims process and undertake all necessary investigations, ensuring that your child receives the compensation and justice they deserve.
Contact our experts about Cerebral Palsy Claims
If you or a loved one have experienced medical negligence and would like to speak to someone about your options, our team is here to listen and advise you on your next steps.
We are the only medical negligence specialist firm in Essex & East Anglia
96% of our cases are successfully resolved outside of court
No win. No fee. You only pay if your case is successful
Work alongside one specialist solicitor throughout your entire case
Why choose a Gadsby Wicks medical negligence solicitor?
One specialist
solicitor throughout
your whole case
The only medical
negligence specialists
throughout Essex &
East Anglia
96% of cases are
successfully resolved
without the need
to go to court